More police in Indiana are testing drug-impaired drivers with hand-held tech
The SoToxa Mobile Test System tests saliva for six kinds of drugs
---
By Mariah Rush
The Charlotte Observer
LAKE COUNTY, Ind. — More police departments across Indiana now have access to a new tool to test potential drugged drivers, and the program aims to expand across the country.
This device, SoToxa Mobile Test System, was first given to select Indiana and Michigan police departments in December 2020 by the Indiana Criminal Justice Institute, according to a 2020 news release. Now, the tool's reach is expanding to 19 new agencies and 97 new devices around Lake County, Indiana, which is at the Illinois border, according to an Oct. 28 news release.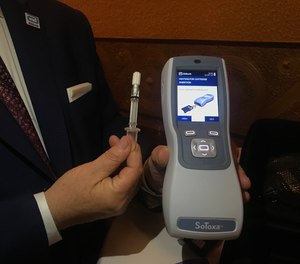 SoToxa is a handheld device that tests saliva for six kinds of drugs: cocaine, methamphetamine, opiates, cannabis (THC), amphetamine and benzodiazepines. Results are available within five minutes.
[RELATED: New tech could help police combat drug-impaired driving]
Similar to a breathalyzer test, officers must have a reason to stop a motorist and must suspect impairment to ask them to take the test to establish probable cause, the 2020 release said. The SoToxa test can be refused by drivers that have been pulled over, and "the results cannot be used as evidence in court to determine if the driver was impaired."
"For decades, officers have been using handheld devices such as portable breathalyzers in the field, but this is the first time they'll be able to test for the presence of drugs," Devon McDonald, ICJI executive director, said in the 2020 release. "This technology is a game changer for road safety and Indiana law enforcement."
The release said departments across the country can purchase these devices at any time; however, Indiana and Michigan were the first to distribute them statewide.
Prior to this round of new devices, 87 SoToxa devices have been operated over the last year, and 798 tests have been performed by officers, the Oct. 28 release said. Of those tests, 55% have come back positive for at least one substance, with cannabis being the leading drug. Now, there will be nearly 200 devices in use in the state.
"We're concentrating our efforts in Lake County as a thoroughfare between Illinois and Michigan where cannabis is legal," McDonald said in the release. "This is about making sure officers in the region have the training and equipment they need to address drug-impaired driving swiftly and more effectively."
This initiative is part of the "Great Lakes, High Stakes" campaign, which aims to lower fatalities caused by drugged drivers in the region, as well as nationwide.
A 2018 Governors Highway Safety Association report revealed 44% of fatally injured drivers tested positive for drugs in 2016, which is 28% higher than the decade before.
[NEXT: Evolving strategies to win the war on opioids (eBook)]
©2021 The Charlotte Observer. Visit charlotteobserver.com. Distributed by Tribune Content Agency, LLC.
McClatchy-Tribune News Service