Police: 2 critically injured, 10 shot in New Orleans
Authorities say a suspect has been detained in connection with the early morning shooting
---
Katelyn Unholtz
NOLA Media Group
NEW ORLEANS — Eleven people were shot on Canal Street in New Orleans early Sunday morning, according to New Orleans police. 
Two are in critical condition, NOPD Supt. Shaun Ferguson said. Earlier, police said there were 10 victims but later Sunday morning increased the count by one.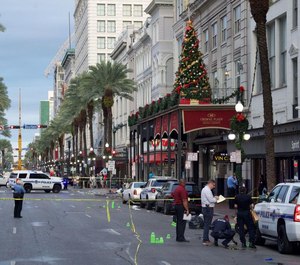 Five victims were taken to University Medical Center and five were taken to Tulane Medical Center. One person arrived at an area hospital via a private vehicle.
A person of interest has been detained. Ferguson said it's unclear what involvement -- if any -- the person of interest had in the shooting.
As of 6:30 a.m., no arrests have been made.
The gunfire broke out in the 700 block of Canal Street just before 3:30 a.m.
Ferguson said officers were on the scene immediately as patrols were beefed up for the annual Bayou Classic in town this weekend. He added that officers at first thought they were being fired upon since the shots rang out so close to them.
No police officers were injured, Ferguson said.
Signs of the eventful weekend were all around, with the scene and areas around littered with food wrappers, beer cans and overflowing trash cans.
On the first day of December, businesses inside the crime tape were decorated for the holidays.
Authorities weren't too far from another familiar site: the collapsed Hard Rock Hotel's hanging crane was in clear view, along with Christmas wreaths lining Canal.
Kenneth Culbreth started his morning at a Canal Street CVS to make a quick purchase. Moments later, he walked out to a crime scene.
"On my way out of the CVS, I heard pops," he said. "It was so many, I couldn't keep count."
A CVS employee had a hard time controlling the crowd that rushed in seconds after the gunshots.
"I heard three rounds, and people started running," the employee said.
Culbreth spent the rest of the morning watching the scene, with law enforcement and several emergency vehicles moving in and out at a rapid pace. 
As of 7:30 a.m., the lake-bound side of Canal Street was closed between Bourbon and Camp streets.
This is the second mass shooting to occur on the weekend of Bayou Classic in recent years.
In 2016, two men got into a fight, and the gunfire injured nine people and killed Demontris Toliver, a Baton Rouge tattoo artist.
No information about motive for Sunday morning's shooting has been released. It's also unclear if there was just one gunman or multiple gunmen.
McClatchy-Tribune News Service