'Commonsense legislation': House Democrats urge vote for more police funding
In a letter to Nancy Pelosi, 19 lawmakers asked the House Speaker to hold a vote soon
---
By Suzie Ziegler 
WASHINGTON — Over a dozen House Democrats have written a letter to Speaker Nancy Pelosi, urging her to hold a vote soon for a bill that would increase funding for police departments across the nation, NBC News reported on Friday. 
In the letter obtained by NBC News and available in full below, 19 lawmakers cited a national uptick in crime rates as reason to pass the "commonsense legislation."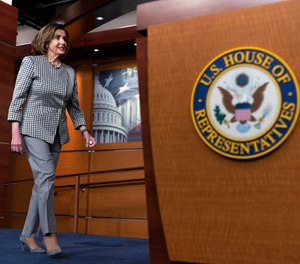 "As national crime rates increase, including homicides, car jackings, and assaults, now is the time to support local law enforcement," the lawmakers wrote. The missive was also sent to Minority Leader Kevin McCarthy and the top Democrat and Republican on the Judiciary committee. 
"We should all agree: The answer is not to defund the police. It's to fund the police," the letter continued. "To make our communities safer, build a future with less crime, and save lives, we should not defund — instead, we must invest to protect." 
The letter was led by Rep Josh Gottheimer (D-NJ) and Cindy Axne (D-Iowa), according to the report.