Report: Deputies took cover during Parkland massacre
The newly released report suggests the problems with BSO's response to the Parkland shooting go beyond the school's resource officer
---
By Nicholas Nehamas
Miami Herald
MIAMI — Broward Sheriff's Office deputies were taking cover behind cars and a tree as they responded to the worst school shooting in Florida history — and one of them thought he knew where the shooter was, according to an officer report released Tuesday by Coral Springs Police Department.
But the BSO deputies didn't immediately attempt to track down shooter Nikolas Cruz or aid the wounded, according to the report by Coral Springs officer Bryan Wilkins, which recounts his actions at Marjory Stoneman Douglas High School on Feb. 14.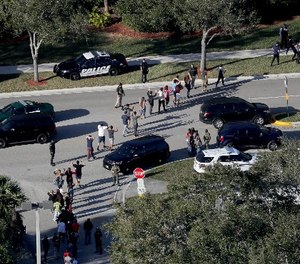 Wilkins wrote that he arrived at Stoneman Douglas within minutes of an active shooter alert. BSO was already there.
"I saw approximately four Broward County Sheriff's Office vehicles parked … with their personnel taking up exterior positions behind their vehicles," Wilkins wrote in the report. "I drove up just west of the campus building 1200, exited my vehicle, grabbed my AR-15 rifle and donned on my tactical/medical gear. As I was advancing on foot through the chain-link fence, I was advised by an unknown BSO Deputy taking cover behind a tree, 'he is on the third floor.' "
Wilkins says he and Coral Springs Detective Gil Monzon then went into the freshman building where Cruz killed 17 people. Inside, they saw the dead and wounded. Cruz had already fled about five minutes before the officers went in.
Police around the county are trained to find and confront active shooters without delay.
The newly released report suggests the problems with BSO's response to the Parkland shooting go beyond the school's resource officer, Deputy Scot Peterson, who was at the school when the shooting began but never went into Building 12. At least three other BSO deputies arrived on campus in time to hear gunfire but said they couldn't locate where the shooting was taking place.
Broward Sheriff Scott Israel held a news conference to announce Peterson's resignation in February.
At the time, Israel said he was "sick to my stomach" that Peterson didn't go into the building. Although he has resigned, Peterson remains the subject of a pending internal affairs investigation.
BSO didn't immediately respond to a request for comment.
©2018 Miami Herald
McClatchy-Tribune News Service