After Harvey's fury, police tasked with gathering up the dead
Hurricane Harvey has claimed at least 39 lives. But the death toll is expected to rise this week as flooding subsides and people return home and search for the missing
---
By Molly Hennessy-Fiske
Los Angeles Times
HOUSTON — The woman's body, slight and petite, was revealed as floodwaters receded, washed up against the green metal fence surrounding her apartment complex.
Neighbors knew exactly who she was: Kiesha Williams, a 32-year-old certified nursing assistant and single mother of two girls. They had watched her drown in angry floodwaters as they frantically called 911.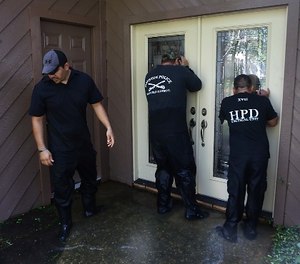 Now, they wondered how many more victims remained entombed in flooded apartments.
So far, Hurricane Harvey has claimed at least 39 lives. But the death toll is expected to rise this week as flooding subsides and people return home and search for the missing, making the same sorts of grim discoveries as people did in neighboring Louisiana after Hurricane Katrina, a dozen years ago.
Houston officials embarked on the house-to-house search Thursday in areas where floodwaters rose 3 feet or more. That included the Woodforest Chase apartment complex in the eastern neighborhood of Northshore.
As they searched, the storm was still causing havoc. On Houston's northern outskirts, a fire at a chemical plant rattled nerves when it spewed a plume that was deemed noxious, but not dangerously toxic. A major hospital in Beaumont, 90 miles east, had to shut down after the town's water supply failed.
But the recovery of the dead was a quieter affair: sorrowful, slow, infused with dread of what still remained to be discovered.
The boxy tan stucco complex of Woodforest Chase faces Greens Bayou, an unruly, brush-choked river that overflowed during the worst of the storm last weekend, sweeping families from their homes. Farther north, the same bayou swept away a van containing a family of six. The vehicle was retrieved Wednesday.
At Woodforest Chase, some fled to the complex's rooftops as the waters rose. From there, they shouted for help and watched helplessly in horror as neighbors drowned.
One resident who had taken refuge on a roof, Roshanda Harris, said she saw five bodies float away, including those of three children.
Derrick Vance, 29, said he saw half a dozen people die. He descended from the roof at one point to help families next door. But he couldn't reach Williams and others stranded across the complex. The parking lot between them had become a roaring river.
"Most people that died was on that side. There might be some people still in their apartments," he said Wednesday, pointing to the area where Williams' body was found.
A team from the local medical examiner's office removed Williams' body from the complex fence Wednesday, and relatives broke the news to her daughters that their mother had died.
Neighbors said they couldn't be sure how many had fled before floodwaters rose nearly to the roofs. The storm peeled open apartment doors, windows and whole walls, washing the contents through the surrounding fence. There, they became mired like flotsam on the beach, with the same briny stench.
Shaky cellphone video posted on Facebook showed figures clinging to a tree in the parking lot as brown water rushed around them, ripping one woman's clothes off and threatening to tear her away as the other figure clung to her underwear.
"Pull her up! She underwater!" shouted a woman filming from across the complex.
"Pull her head up!" yelled a girl.
A man can be heard on his phone nearby calling 911.
"Tell them she going underwater and she can't breathe," the woman said.
"We need someone out here now, we've got people drowning," the man told an operator.
Suddenly, the woman filming screamed.
"She's gone — they let her go," she said. Noting others had already drowned, she added, "That's not the first person."
A cousin, Daquan Green, said he recognized Williams in the video. He also recognized a friend in a pink jacket, who had accompanied her back to the apartments, and was the one who tried to save her. The friend survived, he said.
Williams could not swim, according to Green, 21, who was at her apartment Wednesday with relatives.
Williams had graduated from Houston's Furr High School and worked at a local hospital while studying to become a certified nursing assistant, virtually living in her scrubs, relatives said. The single mother rented her own apartment, bought a blue Chevy Malibu sedan and had just received her license before Harvey hit, he said.
When the storm started, Green said, Williams left daughters Kiaja Williams, 13, and Kinaya Williams, 11, with her aunt and returned to the complex to save her dogs, pit bulls Tiger and Doughboy.
"They lived. She never made it to them," Green said.
Saturday would have been her 33rd birthday.
As the search crews pressed ahead with their task, Sheldra Brigham, a Fire Department spokeswoman, said the crews will not mark unoccupied homes with Xs, the notorious "Katrina Cross" search codes spray-painted by Federal Emergency Management Agency crews across the front of stricken houses after that deadly storm.
"It alerts the wrong people that no one is there," Brigham said, explaining that the Xs could attract looters or squatters.
The search crews will use a new GPS tracking system to record and map what they find, Brigham said.
The process could take weeks.
———
©2017 Los Angeles Times
McClatchy-Tribune News Service