How the National Law Enforcement Museum honors and educates
Whether you are a rookie, a veteran or a member of the public, interactive exhibits and fascinating artifacts make this museum a must-visit
---
I've reached the age where I can walk into an antique store and see my childhood played out. From the vintage James Bond metal lunch box I precociously carried in 2nd grade, now available for a mere $200.00, to our old dish cabinet with built-in bread box now available for $700.00. So when I was perusing the National Law Enforcement Museum in our nation's capital and looking at "antique" police equipment like the Breathalyzer 900, the Speedgun radar unit and a shoebox-sized walkie-talkie, I felt like I should be on the shelf as an exhibit from the old days.
As a writer, teacher, trainer and avid reader of all things police, there wasn't much in the museum that I didn't already know after four decades in the business, but the museum is a great way for others to get a look at the realities of the profession, and for law enforcement veterans to better understand their legacy.
Heroism, artifacts on display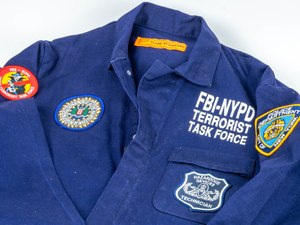 Museum guests encounter themes of heroism, sacrifice and duty amid challenges as soon as they enter. Mounted above a display kiosk is a bullet-ridden truck of Arkansas Wildlife Officer Michael K. Neal, who ended a shooting spree in which two West Memphis Arkansas police officers died in 2010. Also dangling high above the floor is the U.S. Park Police helicopter used to pluck survivors from the icy Potomac River after Florida flight 90 struck the bridge and plunged into the river in 1982. The event is known to every student of the National Incident Command System as a catalyst for coordinating multi-agency disaster response. An accompanying big-screen video captures interviews and breath-holding footage of the event.
Other iconic artifacts include a bullet-resistant vest worn by Al Capone, a dusty tactical vest worn by an ATF agent from the original assault on the Waco, Texas Branch Davidian compound in 1993, and pieces of evidence from the infamous 1995 O.J. Simpson murder trial in Los Angeles.
Fictional cops get their due as well, with a wall dedicated to television and movie depictions of the profession, including the shiny metal uniform of Robocop.
Interactive attractions
Attendees spend an average of over 2 hours at the museum, with many opportunities to enjoy interactive attractions and video presentations in addition to the exhibits reflecting the history of American policing. The displays and activities engage patrons in many aspects of law enforcement, including exhibits on the critical role of dispatchers and corrections personnel in the law enforcement family, as well as forensic scientists and medical examiners. The one type of cop everybody loves gets plenty of attention in a special display of K-9 contribution to law enforcement.
Dispatch consoles on display allow guests to sit in the communications officer's chair and listen to calls. In addition to playing dispatcher, guests can play also detective with an interactive project that challenges visitors to solve cases. Critical moments facing SWAT teams are dramatically played out in an engaging scenario, and guests can step into a decisional shooting simulator to get a sense of what officers face when making deadly force decisions.
There is an inevitable measure of intensity to the displays of skulls, guns and criminal acts that are necessary to tell the story of policing. Children also have the opportunity to color in a coloring book that takes a gentler approach to introduce policing to youngsters, but parents and sponsors of children's tour groups can place things in perspective without too much disturbance to a young psyche.
The curators have designed the museum to devote a lot of the space to emphasize community connections and positive efforts to establish better relationships between law enforcement and the citizenry they serve. Five Communities began as an exhibit in the DuPont Gallery in the museum and has now been adapted for the web. The presentation shares different approaches to community engagement and outreach through the stories of five police departments across the United States.  
Pay a visit
If planning a trip to Washington, D.C. or know of a class taking a trip to the nation's capital, encourage their sponsors to include time for the museum and, of course, the National Law Enforcement Officers' Memorial across the street. If you know a criminal justice student, rookie, spouse or family member of an LEO, encourage them, too. And if you're an old salty veteran, take the tour down memory lane.
Learn more about the National Law Enforcement Museum here.
NEXT: 9/11 exhibit newest addition to National Law Enforcement Museum