Detroit police couple's tragic death reflects rise in officer suicide
---
By Amber Hunt and Tammy Stables Battaglia
Detroit Free Press
DETROIT — First, the shots rang out. Then came the screams.
A woman's lifeless body lay on the cement. The man who had shot her was down, too, a self-inflicted gunshot to his head, his breathing too shallow to detect.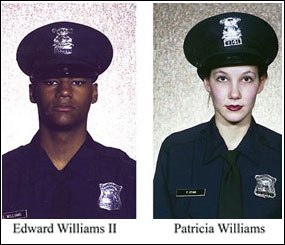 "Someone's shooting in our parking lot ... please hurry, hurry, hurry!" a caller pleaded with a 911 dispatcher. "Come on, hurry!"
The pleas were useless: Canton police said that 33-year-old Patricia Williams, a Detroit police officer, was already dead, and her killer and husband -- Detroit homicide Detective Edward Williams, 36 -- had fatally turned the gun on himself.
The Tuesday morning deaths were a marriage of two endemic problems plaguing police departments nationwide, experts said: domestic violence and suicides.
"Police officers have unique jobs where they're instructed to keep their family life separate from their work life," said Eric Lambert, a professor with Wayne State University's department of criminal justice. "In reality, that's impossible."
According to data compiled by WSU, Detroit officers face a higher suicide rate than most police, at 28 per 100,000 police officers, nearly twice as many as New York City police.
Also, marriages involving police officers are two to four times more likely to involve domestic violence.
Detroit cops lead nation in suicides
Canton police trying to piece together what led a Detroit Police Department homicide investigator to shoot and kill his wife, then himself, face an uncomfortable reality: More police officers kill themselves in Detroit than in other big cities nationwide, and police in general have higher rates of domestic violence.
So says Bengt Arnetz, professor and director of occupational medicine at the Wayne State University School of Medicine, which is launching a three-year study designed to help Detroit officers cope with stress, especially in light of officers' high suicide rates.
"We don't know exactly why it happens," Arnetz said Tuesday. "We know risk factors are sustained stress, depression, personality factors and trauma exposure."
Details of the shooting deaths were still guarded Tuesday, but police said trouble had been brewing between Edward, 36, and Patricia Williams, 33 -- also a Detroit police officer -- for days, prompting a domestic complaint to be filed with Canton Police over the weekend.
On Tuesday, a male friend of Patricia Williams called police about 8:30 a.m. to report there had been another incident.
The caller said Patricia Williams was on her way to the Police Department, Canton Police spokesman Mark Gajeski said.
She never made it.
Instead, she parked her silver late-model BMW a couple of spaces down from her husband's sleek black Dodge Charger with dark-tinted windows along the side of the library parking lot.
"He called her, and he got her to come over to the library and talk to him," Gajeski said, looking at the couple's cars still in the parking lot of the Canton Center Road library, the revolver used still on the ground. "That's when the shooting started."
Detroit leads departments
While murder-suicides aren't common in any walk of life, police officers generally have a higher risk of suicide than most people -- especially in Detroit.
In Detroit, 28 police officers per 100,000 kill themselves each year, Arnetz said. That's higher than average for U.S. working men, which is 12 per 100,000. Most police officers who kill themselves are men.
Arnetz said data he compiled in anticipation of his study found no department that outpaced Detroit. The rate in New York City is 15 per 100,000; in Chicago, 18; in Los Angeles, 20, and in Buffalo, 17.
There is no national database tracking statistics related to police officers suspected of committing homicide, said Eric Lambert, a professor with Wayne State's department of criminal justice. Limited studies have indicated that homicides are no more common in the police world than they are in the rest of society, he said, but domestic violence is more prevalent.
Two studies have found that at least 40% of police officers' families experience domestic violence in contrast with 10% of families in the general population, Lambert said.
Role on A&E show
The couple had no children, though Patricia Williams had a 10-year-old son from a previous marriage. He had left the Canton family's home in the Central Park South subdivision for school before the shooting took place, Gajeski said.
Ed Williams was well liked and had appeared in the A&E program "The First 48," a reality-based TV show that highlights the initial two days of criminal investigations.
He was one of several homicide investigators featured during a several-episode stint in Detroit.
Jack White, 73, who lives four houses down from the family, said he noticed three police cars in the driveway Monday.
"It's always been pretty quiet. I just wondered what was going on," he said, adding he used to chat with Ed Williams' father, who would periodically cut the grass at the Wall Street home, but didn't know the couple.
Dolores Graddy, 48, a library assistant, said a patron ran into the building, which had just opened at 9 a.m.
"I just heard someone screaming someone had been shot," she said. "We just gathered, waiting for the police."
Detroit Police spokesman John Roach said Patricia Williams, with the department since November 1995, was a patrol officer at the department's Northwest District who was on disability with a hand injury.
She had recently been reassigned to the department's Northeast District on restricted duty.
Ed Williams started with the force in 1994.
Copyright 2009 Detroit Free Press