Boston Police: Officers surrounded by 'hostile' crowd while attempting to arrest armed suspect
Department officials said a fire hydrant was illegally opened and buckets of water were dumped on officers
---
By Suzie Ziegler
BOSTON — In a press release Wednesday, the Boston Police Department said several officers were attempting to arrest an armed suspect when they were surrounded and assaulted by a rowdy crowd.
BPD said officers were responding to a report of a man carrying a gun inside a fanny pack. While attempting to arrest the man, who was resisting, a large crowd began to gather in the area. As officers were trying to place the suspect in handcuffs they felt an object consistent with a firearm inside the fanny pack. Officers later confirmed it was a revolver loaded with five rounds of ammunition.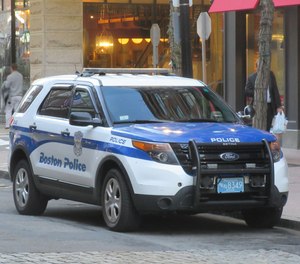 As the crowd grew, BPD said a fire hydrant was illegally opened, "causing a heavy flow of water pressure onto the street directed at the officers." When officers tried to place the man in a marked cruiser, an unknown suspect began throwing buckets of water on the officers, said BPD.
"I'm alarmed by the level of hostility my officers had to face while arresting a felon armed with an illegal firearm," Boston Police Commissioner William Gross said in a prepared statement. "They were attacked by members of the very same community they were attempting to protect by affecting this arrest. Public safety is a shared responsibility, we need to continue to work together, not in opposition towards one another, to achieve that goal."
The original suspect, identified as 44-year-old Jermaine Thomas, was charged with Unlawful Possession of a Firearm, Unlawful Possession of Ammunition and Resisting Arrest.