Police captain recalls shooting of Kan. Costco gunman
When the gunman announced that he was there "to kill people," Capt. Michael Howell realized that he had only one option
---
By Glenn E. Rice
The Kansas City Star
LENEXA, Kan. — As the chaotic scene unfolded and the gunman methodically walked through the aisles of the Lenexa Costco on Nov. 26, off-duty police Capt. Michael Howell knew his best tactic would be surprise.
When the gunman, later identified as Ronald O. Hunt, announced, "I'm an off-duty U.S. Marshal, I'm here to kill people," Howell realized that he had only one option.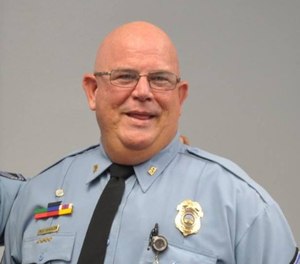 "I knew that there was a threat that had to be stopped," Howell said Friday as he recalled the incident.
The 22-year veteran of the Kansas City, Kan., police department weaved through the aisles and confronted Hunt. A video of the encounter was released Thursday.
"'Police, drop the gun. Don't move,'" Howell said.
When the off-duty captain said police a second time, Hunt turned and pointed his pistol at Howell.
"That is when I fired at him," Howell said. "And he went down."
Looking back on that Sunday morning, Howell said, it seemed as though time stood still as he waited for uniformed officers to arrive.
In announcing that the retired U.S. Army veteran would not face criminal charges, Johnson County District Attorney Steve Howe said Howell "acted with extreme courage, and saved an unknown amount of innocent lives."
Howell said he views what did as something less heroic: "I'm just a cop doing my job."
Hunt was not a U.S. Marshal. Missouri court records show that he pleaded guilty in 2015 to a traffic violation for carrying too much weight on a truck, and the address given for Hunt was the Swift Transportation terminal in Edwardsville.
Howell had gone to the store with a friend to purchase an electric fireplace for his new house when a crowd of customers flooded past them.
Hunt, armed with a black revolver with a 12-inch barrel, pushed a grocery cart as he slowly followed the customers and employees as they fled out of the emergency exit on the west end of the building.
"My greatest fear was we had kids with their moms, with their grandmas, with their dads," Howell said. "It was little kids running and screaming. And seeing the fear in their faces and knowing whatever it took, I had to do whatever necessary to end this threat so they wouldn't get hurt."
Neither Howell nor any customers or store employees were injured.
Ironically, Howell had tickets to the Chiefs game against the Buffalo Bills. Howell received a free ticket after he participated in a halftime ceremony earlier in the season that honored military veterans and first-responders.
Instead of attending the game, Howell decided to stay home and get some rest. He had returned home after visiting family in Oklahoma during the Thanksgiving holiday.
The incident helped Howell appreciate the active shooter training he and other officers routinely receive. It was the first time, Howell said, that he confronted gunman while off-duty. Howell said that he's always armed.
"You never know what situation you are going to find yourself in whether it is a restaurant or a shopping mall, or just driving down the road," he said. "I think it would be ludicrous not to be prepared."
©2017 The Kansas City Star (Kansas City, Mo.)
McClatchy-Tribune News Service