Video: Ohio police fatally shoot suspect reaching for replica gun
The realistic gun was in the suspect's waistband
---
By Police1 Staff
CINCINNATI — Police fatally shot a suspect after he pulled out a replica gun, WLWT reported.
The suspect, 37-year-old Paul Gaston, disobeyed commands to get on the ground and instead pulled out the realistic airsoft gun, Chief Eliot Isaac told the publication.
"They initially gave him commands to go to his knees, which he initially complied," Isaac said. "They also gave him additional commands to lie on the ground. The individual begins to go to the ground, he raises up and retrieves a firearm from his waistband."
Officers Scott McManus, Paul Kohler and Zachary Sterbling fired nine shots at Gaston.
The incident began Thursday when Gaston crashed his vehicle into a pole.
"He exited the car, stumbled out, dropped the gun, picked up the gun and took off," a 911 caller told police.
Gaston walked 600 feet before officers found him. Video evidence backs up reports officers gave with Gaston refusing to comply and reaching into his waistband.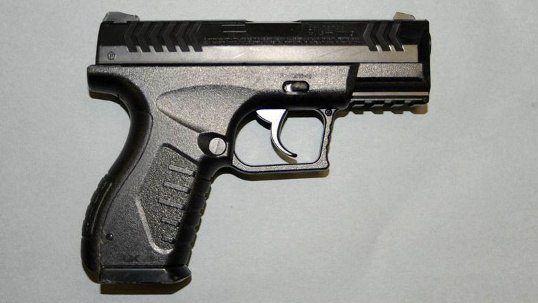 (Cincinnati PD Image)
"Any loss of life is tragic and unfortunate, but our CPD officers must protect themselves if a gun is pulled against them," Mayor John Cranley told the news site. "It's clear, based on my review of the video, the officers were justified in their actions."
The incident was still under investigation.