Hero MTA cops track down, save suicidal teen on NYC bridge
It took a group of 14 MTA cops less than 40 minutes to track down the teen
---
By Clayton Guse
New York Daily News
NEW YORK — A flurry of MTA cops swarmed into action Tuesday to save a colleague's teen age son from following up on his plans to jump off the Triborough Bridge, officials said.
The teen's frenzied dad — a maintainer at another bridge operated by the Triborough Bridge and Tunnel Authority — reported around 5:20 p.m. that he'd been unsuccessful in his attempts to talk his 17-year-old son from leaping off the bridge.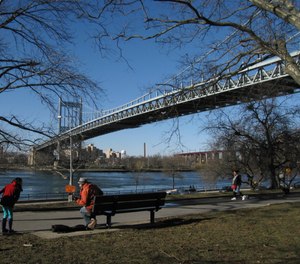 It took a group of 14 MTA cops less than 40 minutes to track down the teen — which isn't easy on the Triborough, actually a collection of bridges and highway links that connect Manhattan, Queens, the Bronx and Randall's Island.
"We had a picture of the kid... When we got to the Queens span of the bridge he was wearing a hoodie and a face covering. We were only able to identify him from his eyes," said Lt. Dennis Palazzola, one of the cops who made the save.
"We went up to him. He was emotional, he was distraught. We were able to safely bring him to EMS."
Palazzola, 31, has 11 years on the job — and said his team is well-trained to quickly respond to suicide threats on the Triborough.
"The Triborough Bridge is one of our busiest commands," he said. "We all took a bit of satisfaction to help somebody who we work with. The maintainers who do work on the bridges and tunnels... This is one of those moments when we're able to say to them, 'You know, we've got your back too.'"
Despite a pandemic that's caused emotional distress and financial hardship for many New Yorkers, suicide incidents are actually down on the MTA's bridges, according to Richard Hildebrand, a TBTA vice president and chief of operations who helped oversee the save.
"This year, surprisingly, we haven't had an uptick given the state of the world," said Hildebrand.
"It was a good save of a 17-year-old life," he added. "It was a cry for help, I think. What I found in my couple of decades here is that someone who is going to do this will stop their car, maybe leave a note, usually take their wallet out and they just jump. I'm not saying that this man wouldn't have gone over — but he actually cried for help."
(c)2020 New York Daily News
McClatchy-Tribune News Service