Ore. deputies team up to give hitchhiker 'relay-race' ride home
Four officers across four counties coordinated a carpool to make sure one man was able to get home safely from a court appearance
---
By Suzie Ziegler 
GILLIAM COUNTY, Ore. — A group of Oregon officers from four different agencies teamed up last week to make sure one man wasn't left in the cold.  
In a Facebook post Sunday, the Gilliam County Sheriff's Office described how deputies helped a hitchhiker get home, in a pseudo-relay-race between neighboring counties.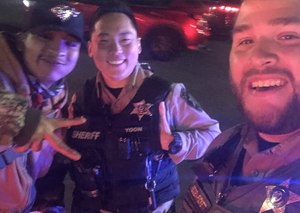 It all started when a Gilliam deputy overheard a state trooper giving a courtesy ride to a hitchhiker. 
"Our deputy was curious to what the situation was, so he waited for the Trooper to arrive," the agency said. 
The unnamed deputy learned that the hitchhiker, Marvin, was walking from Portland to Pendleton to get to court on time the next morning. The trooper had driven Marvin part of the way.  
"Our deputy knew Marvin had a long way to go, and not a lot of time to get there," wrote Gilliam County. "So he transported him to Love's Truck Stop in Morrow County which was one step closer." 
The next day, Gilliam County received a call back request from the Morrow County Sheriff's Office. Marvin had made it to his court appearance but was now stuck because his ride had not shown up. 
"We knew the temperatures were dropping and would be unsafe to walk all the way back to Portland from Pendleton, so multiple agencies teamed up to make sure Marvin made it safely back," said Gilliam County. 
Morrow County Sgt. Braun drove Marvin back to Gilliam County, where Deputy Redden took Marvin to Sherman County Deputy Yoon, who handed him off to Oregon State Trooper Mitro, who gave Marvin his final ride home. 
During one of the exchanges, Marvin posed for a selfie with Deputies Redden and Yoon. 
"We are grateful we have amazing working relations with our local agencies," wrote Gilliam County.