From police to professor: Making the move to academia
The most effective teachers are those who can balance thought-provoking academic theories with compelling real-life experiences
---
Many law enforcement officials fantasize of retiring to teach in academia, where they dream of working 20 hours a week with students who hang on their every word. Usually, that fantasy is set in a more temperate climate where the sun never sets. For many who pursue the ivory tower second career path, the cold wind of reality sets in as they turn in their application. How do you get those positions and what should expect when you get there? For reasons of space, and since veteran law enforcers are most likely to migrate to two-year educational institutions, I'll confine the examination to teaching opportunities in community colleges.
The community college environment
While community college instructors do not have the pressure of the "publish or perish" time-consuming research agenda present in many tenure track university settings, community colleges engender their own demands on faculty with an increased emphasis on teaching load. Not only are there more sections of classes to teach, the numbers of students in those classes is usually higher. That is particularly true these days with a struggling economy that causes community college enrollments to skyrocket. That said, community college professorships are plum jobs and the competition is fierce.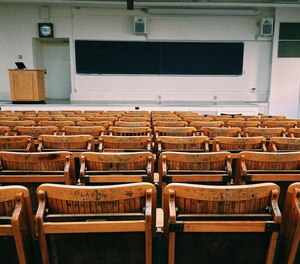 Teaching options
Teaching opportunities for officers may take many forms. Officers could choose to bring their expertise to bear on the training side or they could share their experiences on the academic credit track. In addition to community colleges, they could work for a private training product-oriented outfit, technical school, privately held college, or four-year bachelors and higher-degree granting university.
With the advent of booming online education, teaching at a distance has attractive elements as well, though that primarily is an adjunct or part-time gig. Full-time teaching posts at community colleges, while they may require some online teaching load, the emphasis is still on the classroom teacher.
The instructional settings are varied and their applicability in your career plan depends on your interests, strength of resume and your willingness to relocate. Government-run community colleges tend to have exclusivity in their service area, as they usually are part of a statewide, interconnected system.
Formulate a Plan
You will need to plot out where you want to end up and what credential deficiencies you'll need to address to get to your goal.
Take stock of where you are both in terms of your personal goals and your financial health. Most teaching gigs do not pay as well (at least initially) as high-ranking cop jobs. With a police pension in hand, the switch to a lower paying teaching post becomes more realistic for many folks.
Next, you'll have to decide if you want to teach on the academic side of the house or train cadets in an academy setting and officers in advanced or specialized courses. Some educational institutions' criminal justice programs have the unusual luxury of wearing both hats (teaching in both basic academy and advanced training, as well as criminal justice associates degree courses). Others have those separated under distinct academic and vocational or continuing education umbrellas. You may even consider higher-level academic posts that are primarily executive level, non-teaching posts in a director or dean level slot.
If your target is teaching in an academic setting, your educational accomplishments will have more weight. If your sights are set on training, your experience and instructor certifications will have greater emphasis for the hiring committee.
On the academic side, most institutions, particularly those that are regionally accredited, will look for you to possess a regionally accredited master's degree in criminal justice or a related field (criminology, law enforcement, corrections, public administration, etc.) or a master's degree in another area with an additional 18 graduate credit hours in criminal justice or a related field. There are six regional accrediting bodies in the United States and you are best served by having all of your college degrees under one of those "seals of approval." (Check out this site for more detailed information on regional accreditation, what it means and the six accreditation organizations.)
Some places will allow you to teach academic courses with only a regionally accredited bachelor's degree in criminal justice or a related field along with relevant experiential requirements. It would behoove you to identify your target employer and find out what their requirements are so that you can earn the credentials prior to your application being filed with them.
If training is more your bag, you will need to take an instructor techniques course (or whatever your state's POST or criminal justice standards education and training honchos require). If your goal is to teach firearms or another high liability area such as vehicle operations, you may have to take additional instructor training courses.
After completing the train the trainer courses, many states require you to undergo an instructional internship and be evaluated by an experienced instructor and students prior to being granted state certification as a law enforcement instructor. Bear in mind that a few years down the road, your state may require you to show teaching time and proficiency in the training area in order for that state certification to be renewed.
Full-time jobs in the academic and training slots are few and far between. The competition is fierce especially in destination states such as Arizona, North Carolina and Florida. Having been based in the Sunshine State for a number of years, I frequently get calls from officers, deputy sheriffs and troopers across the nation (especially from snowy cities) looking for advice on how to move to Florida and teach criminal justice students.
Teaching Experience
An important key to landing those coveted jobs is the ability to list teaching experience on your resume. Teaching a new entry technique at your agency's roll call is neat, but is not going to do the trick. Colleges are looking for substantial teaching experience in a comparable setting that they can understand.
A great way to garner that experience is to contact your local community college and pursue a part-time instructor slot. Being an adjunct is not a lifelong job, though some enjoy the stint for years. Rather, it is a way to fine-tune your teaching skills and showcase your commitment to facilitating student learning and success.
Breaking in as an adjunct isn't easy though. For those who think that politics in policing is rough and tumble, let me point out that college politics can be brutal. Some academics have too much time on their hands and can obsess over petty jealousies and other issues. Having worked for community college criminal justice on a part-time or full-time basis in New Mexico, North Carolina, Florida and Ohio, I can attest that there are some folks who will be like that everywhere.
Police vs. Academic Culture
Law enforcers who successfully make the transition from the police corporate culture to the academic arena do so by dropping their authoritative persona when interacting with the education folks. 
Teaching at a community college does have some commonalities with the police world. Both involve interacting with diverse people and creating an inclusive environment where marginalization is kept to a minimum. And both deal with people at varying educational levels in a manner that is not condescending. Respect is a centerpiece of human relations for both endeavors.
Finding the Jobs
Finding out about full-time jobs is not that difficult. Publicly funded community colleges are bound by rules that dictate they advertise open full-time positions. The Chronicle of Higher Education has a jobs section that is rather complete. You may also check out higheredjobs.com, ccollegejobs.com and the American Association of Community Colleges.
Part-time teaching posts are harder to discover. While your target college may advertise part-time faculty positions on their website, the web postings are usually outdated and incomplete. Quite often, there is a full-time faculty or staff person in charge of academic and academy programs within a criminal justice department. Get to know that person. Share your area of expertise with him or her and be there for them when they get caught in an instructor-scheduling bind. You may even come in occasionally as a guest speaker until you can carve out your niche. Eventually, through your flexibility of schedule and helpful approach, you may find that you can claim "ownership" for that course or academy block of instruction.
Teaching in a community college can be a very rewarding pursuit. Many students hunger for law enforcement veterans who can bring their real-world experiences into the classroom to make academic theories come alive. Having been a professor and a manager over teachers, I believe that the most effective teachers are those who can balance thought-provoking academic theories with compelling real-life experiences and war stories. That instructional blend, coupled with dynamic presentation skills, helps to excite and mold the next generation of enthusiastic, service-minded criminal justice professionals.
This article, originally published 6/04/10, has been updated.