PRESS RELEASE
The Best Tactical Boot for Bad Situations from Weinbrenner
---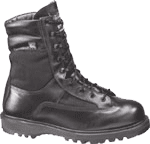 Merrill, WI – You don't chase bad guys in good neighborhoods. Streets, alleys and rooftops are littered with glass, metal objects, and nails which can be dangerous….but they shouldn't be a distraction while you are running, repelling or walking.
Thorogood's Platinum USA Tactical Footwear Series may be designed with traditional good looks but it's engineered to supply instant comfort, sure footing, and deal with debris. It combines athletic shoe elements that help officers perform at their best while delivering the kind of toughness the wearer needs to be confident in their equipment.  It does this through construction elements incorporated to provide protection, performance, and most importantly comfort.
Protective features include a flexible L-Protection® insole to defend against punctures, a waterproof Sympatex® barrier to block out fluids and blood-borne pathogens and rich, full grain black leather that resists damage from water, cutting and heat exposure.
On the performance side, the Platinum USA series offers features more common to athletic shoes than boots. These include a unique "out-of-the-box" flexible welt construction which eliminates the break-in period, factory supported replaceable Vibram® Sierra lug sole for sure footing, reinforced toe stitching for long lasting durability, a moisture absorbing  comfort-weave Cambrelle® lining to wick away sweat and military-style speed laces to help the wearer be ready for action in seconds.
Comfort isn't neglected in the Platinum USA series. The boots' exclusive "Motion Sensor" footbed memorizes stride patterns to reduce impact. A polyurethane midsole provides cushioning with every step, while a double padded full grain leather collar (leather inside and out) reduces fatigue.
Thorogood and Work One are divisions of Weinbrenner Shoe Company, Merrill, WI. Weinbrenner Shoe Company is an ISO 9001 company and has been manufacturing special designed occupational footwear in the USA since 1892. Weinbrenner Shoe Company leads the industry in occupational safety, fire, rescue and uniform footwear. For more information or to find the Thorogood dealer nearest you, call 1-800-826-0002 or visit www.weinbrennerusa.com.