SHOT Show 2017: Angel Armor updates its Truth Snap 556 to Truth Snap 308S
Since the system is made up of two plates, one of them millimeters thin, you can now replace your soft trauma plate with the 9mm/44 Mag rated plate and hardly notice the difference
---
At last year's SHOT Show, Angel Armor showed off its RISE armor and modular Truth Snap trauma plate system. Last year's Level III rated product (with trauma plates installed) protects against common AK-47 and 5.56x45mm M193 rounds.
This year, the company has upgraded the system to Level III to protect not only against .308 Winchester FMJ (M80) 150gr at 2750 FPS (+/- 50), but also against up to spike level 3 stab wounds (hence the "S" in the name).
Since the system is made up of two plates, one of them millimeters thin, you can now replace your soft trauma plate with the 9mm/44 Mag/Stab 1 rated plate and hardly notice the difference. When the SHTF, you can either switch to the second plate alone which can protect up to 7.62x39mm M67/Stab 2, or run both plates together for maximum protection against 7.62X51 M80/Stab 3. And since their RISE armor carrier supports plates in the back as well as the front, you can buy a second set to be better protected in an ambush situation.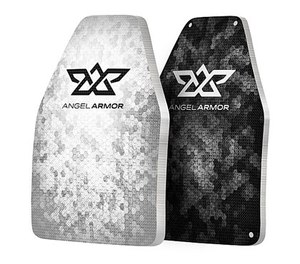 Rectangular plates are available in sizes from 5x8" to 10x12" and many are available with an angled "shooter's cut." And while some companies just say that their customers come first, Angel Armor backs that up by substantially beefing up the product without raising the price by a single penny. A "how to have someone measure you" and other videos are posted on this page. For more information and pricing, visit them here.

Request product info from top Police Body Armor companies
Thank You!