PRESS RELEASE
BlueStone Safety Products offering departments different colors in load bearing vest
---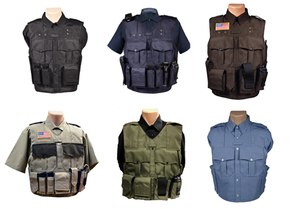 WISCONSIN DELLS, Wis. — When a department is wearing a BlueStone Safety load bearing vest carrier, one of the main benefits is that it blends in with the uniform shirt.  While our design is a big reason for this, there's another important factor: the different colors we offer.
We understand that there are a wide variety of uniform colors that departments choose to wear, and while black and LAPD blue are the main colors utilized, we also have other options.  To assist as many departments as possible, we have these colors available: black, LAPD blue, sheriff brown, tan, spruce green, sky blue, olive, and white. If your department needs a combination of colors, like a tan vest with brown upper pockets and epaulets for example, we can gladly assist you with that as well. We are a custom shop that prides ourselves on bringing your designs to life.
We're a custom shop with custom colors! If your department wears a color that isn't listed, but they're still interested in ordering BlueStone LBVs, we may still be able to assist you. Please contact our team at 630-855-6032 so we can discuss our options.
BlueStone Safety load bearing vests are backed by a 2 year warranty for stitching and craftsmanship, and are built to last much longer than the competition. These LBVs are custom made to the Chief or Sheriff's exact specifications and needs, providing officers with superior comfort while maintaining a Class A uniform look. Each vest is fully custom made, and allows officers to choose the pouch locations for their handcuffs, magazines, flashlights, etc.
For more information, or to order a BlueStone Safety custom load bearing vest carrier, please visit: https://bluestonesafety.com/custom-vest-carrier.
About BlueStone Safety Products
BlueStone Safety Products is a state-of-the-art defense company that manufactures custom load bearing vests / outer carriers for LE. Mayo Health Clinic and the University of Wisconsin-Eau Claire completed a research study with the Eau Claire Police Department, and concluded that wearing BlueStone load bearing vests effectively reduced officers' lower back, sciatic, and hip pain; Eau Claire then chose BlueStone to be their direct manufacturer. You can find this case study on our website.
BlueStone takes great pride working with some of the finest Sheriffs and Chiefs across our nation. No matter your department size, we'll assist you. We specialize in keeping officers in good health, good posture, and pain free while on the job.
Our vests give officers a uniform look, made to the Chief's or Sheriff's exact specifications. If you can dream it we can make it; all of our vests are proudly made in the USA (not overseas), and made custom to each officer's measurements. BlueStone vests are a long-term investment to protect your officers from poor physical health, keeping our officers healthy and able to support their communities.
We also offer our brand of multiple armor threat levels.

Request more info from BlueStone Safety Products
Thank You!