Capewell Aerial Systems announces ShotStop® affiliation
---
MEADOWS OF DAN, Va. — Capewell Aerial Systems has finalized a deal to become a global master stocking distributor for ShotStop ballistic armor plates. Capewell will also collaborate on marketing and branding for the ShotStop brand. The primary target markets to be covered are military, law enforcement and homeland security.
ShotStop armor plates are based on a new, patented polymer technology called Duritium® that has proven to reduce the weight and thickness of the stand-alone NIJ III poly plates by as much as 30% from the next best poly plate alternative on the market today. ShotStop plates weigh about 1/3 of similarly sized ceramic plates and about 1/5 of similarly sized steel plates. Because it is lighter in weight, thinner in profile and not as fragile as ceramic technologies at same protection levels, ShotStop's Duritium® polymer is poised to replace most ballistic plates in common use today for high-powered rifle protection. In addition, ShotStop plates will be made available to manufacturers wishing to incorporate them into new state of the art vests.
Capewell considers ShotStop plates to be highly viable commercially not only because they provide an enhanced level of protection, but they also enable the wearer to be lighter on their feet, have less bulk, and be more comfortable in active duty. In addition, the Duritium® polymer is positively buoyant— which provides big advantages vs steel or ceramic for marine and aquatic operations. One of the principal benefits of ShotStop plates is their improved multi-hit protection. While ceramic plates are typically compromised by the first hit, ShotStop polymer plates stand up to multiple direct hits from close range, yielding superior survivability and peace of mind knowing for certain that the active rifle plate isn't cracked---which is always a concern with common ceramic plates. The proof of protection level can be clearly seen on the ShotStop website proof page where a single 0.6" thick plate weighing only 2 lbs is shot from 10 feet with 51 rounds with no penetration: www.shotstop.net/the-proof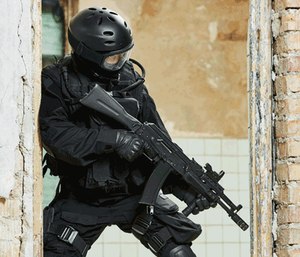 Capewell Aerial Systems president John Marcaccio commented, "We expect ShotStop plates to become the world standard within the next five years as buying cycles are completed. Better protection, lighter weight and competitive pricing is a hard combination to beat. And the technology is highly protected with multiple patents and secured trademarks, so we feel even more confident adding it to our product line."
ShotStop founder Val Iliev said, "We don't often find other companies that share our total dedication to quality and customer satisfaction—but we found one in Capewell Aerial Systems. They are well- connected----and well-respected---in the markets we want to reach—and we are counting on them to deliver value-added responsiveness and personalized service for these critical customers."
About Capewell Aerial Systems, LLC
Capewell Aerial Systems, LLC manufactures and distributes a large array of safety and tactical products for military, law enforcement, homeland security and aviation. The company has been a long-time supplier to all branches of the US military, major police forces and search and rescue organizations worldwide. Capewell manufactures hundreds of highly specialized safety and tactical products including survival vests, flotation collars, parachute components, air drop systems, rescue hooks and crew restraints. In addition to the ShotStop line, Capewell also distributes GENTEX aircrew helmets and Aqua Lung emergency breathing systems. For more information, visit www.capewell.com and www.shotstop.com.

Request more info from ShotStop distributed by Capewell Aerial Systems LLC
Thank You!