Geneva County Purchases PatrolEyes Body Cameras
---
Geneva, AL The Geneva County Sheriff's Department has purchased PatrolEyes SCDV1 HD body cameras.
Geneva County is a rural community located in the southeastern part of Alabama, with a population of approximately 30,000. Geneva County Sheriff, Tony Helms stated that there will be "no grant money used tor the purchase of the cameras." It was also stated that "ease of use and device features" were reasons behind choosing the PatrolEyes devices. A recent post on the department's Facebook page informed the community of the cameras stating " The Geneva County Sheriff's Office has implemented the use of body cameras with all of the deputies this week. Be aware that if you have an encounter with one of our deputies you may be recorded."
PatrolEyes is an emerging leader in body worn video devices for law enforcement. With true HD 1080p recording, up to 170 degree field of view and 16GB or 32GB of storage, it can capture hours of footage. Recording can start with the press of a single button, even when the camera is turned off. The built in LCD allows you to review videos, photos or audio recordings in the field.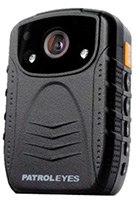 "Many departments are now seeing the value and reliability in the PatrolEyes brand. We provide departments with affordable options which allow them to deploy a cost effective but efficient body camera program . We give departments a choice. They can choose to use the camera with or without password protection, store data to a PC or send it to the cloud. Giving them this flexibility allows the PatrolEyes to meet the needs of a small police department or a large state police force." states PatrolEyes CEO Mike Gramza.

Request more info from PatrolEyes
Thank You!