PatrolEyes Releases Mini Infrared Body Camera
---
Ada, Michigan -The new SCIRM Mini Infrared Body Camera from PatrolEyes is designed to allow law enforcement officers to capture valuable evidence in a compact, convenient and reliable method. It's about the size of an AA battery, housed in a durable metal alloy shell and features night vision recording that will capture clear audio and video, no matter the environment. It is easily mounted in multiple locations including uniform and magnetic vehicle dashboard mount. "We've seen a demand in smaller body cameras with night vision, so we developed the SCIRM based on these requests. The smaller, lighter weight cameras have always been popular, but the quality of the video and battery life was subpar. The SCIRM has the three most requested features, voice, photo, and voice activation mode, which will meet the needs of many departments and security personnel", states Mike Gramza, CEO.
With the ability to record in crystal clear HD 1080p video at 30 frames per second, this camera will smoothly capture every detail. In addition a 12 megapixel camera can take thousands of high quality still images. Accepting a removable micro SD card up to 32GB ensures a large amount of evidence storage, while an internal rechargeable liion battery provides two hours of operation. The SCIRM features 6 Infrared LED's that will not glow when activated to provide covert night vision recording.
Convenience and ease of operation are key assets in selectingthe SCIRM model. One touch recording allows users to simply press a single button to begin recording activation in standby mode, An optional voice activation mode also allows the user to activate hands free recording by detection of voice. Clear labeling on the device and LED indicators provide the ability of quick and easy recording. Time and date stamp option on every photo and video ensure proper reference for all evidence.
About PatrolEyes
PatrolEyes by StuntCams is the most advanced HD body camera designed specifically for police and law enforcement. StuntCams has been an industry leader in the speciality cameras market for years and now has launched the most innovative body camera to date. By paying close attention to each detail the PatrolEyes by StuntCamswas designed to be the most user friendly body camera with the most advanced features, highest quality components, the longest battery life at the most competitive price.
PatrolEyes is determined to earn your trust and your business and offers a full 1 year manufacturer warranty on all parts and labor and offers fast, friendly, knowledgeable support, based right here in the USA.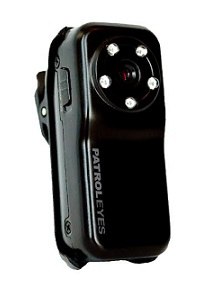 Request more info from PatrolEyes
Thank You!