Indy officer launches tactical iPhone applications for on-duty cops
Apps designed to provide law enforcement with immediate, onsite resources
---
New police technology is usually met with excitement, but is sometimes met with worry. Officers and departments are frequently concerned about how they will pay for new computers or an updated license plate reader. Many Police1 members have expressed the desire for simple, cheap improvements to their daily routine.
Officers with iPhones have to look no further than one Indiana cop's new application. Ron Shelnutt, an officer with the Indianapolis Metro Police Tactical K-9 Unit, has been developing straightforward and useful iPhone applications for on-duty officers since November 2009.
In January 2010, Shelnutt's first application was released for purchase on Apple's website - The Police Miranda Warning application.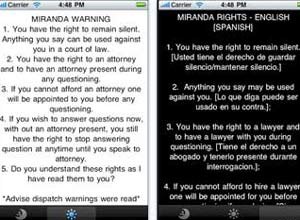 "Before I started [developing them], there were actually no productive applications for officers," Shelnutt explained. "I wanted to start off with a simple application, something that every officer could utilize in the field."
The Miranda Warning app displays the national standard Miranda warnings established by the U.S. Supreme Court and allows officers to access the list with the push of a button. Using the application means that an officer won't have to look through a wallet or notebook for the Miranda warning card officers are required to have.
The application is designed with three functions: daytime use, night display (to limit the loss of night vision for officers on the graveyard shift), and accessible Spanish translations for the warnings.
"Apple actually rejected the application at first because it was too simple," Shelnutt says. "I had to contact Apple and explained the need for it to be simple for easy access on duty."
The second application, DUI Warning and Test Instructions, has a similar functionality. Instead of fumbling around for the Implied Consent Card, an officer using his or her iPhone can get access to the field sobriety test instructions and a .08 chart.
One review of the DUI application on the Apple website says, "This is another excellent app by Mr. Shelnutt. He's right, I always have to look for my card, but I always know where my iPhone is!"
As a street cop for the past 14 years, Shelnutt saw the need for simple technology to advance into a police officer's daily routines.
"Those of us with iPhones know that they are an amazing piece of equipment," Shelnutt says. "But there are not a lot of applications out there, besides gimmicky things, for police officers to use."
With more officers adapting to new technology, there is a need for efficient, flexible, and user-friendly gadgets. Younger recruits flock to devices like smart phones, and applications to help with daily patrol duties could be the next big thing in law enforcement technology. Devices like smart phones are the perfect addition to an officer's tool cache because they are convenient and easy to use.
"Simple tools will go a long way if you let them," Shelnutt says. If you're interested in learning more, be sure to check out the Apple website.

Request product info from top Police Communications companies
Thank You!