Cook's badge-infused holsters are "life-saving equipment"
Cook's badge-infused custom Kydex holsters are available in either RH or LH styles
---
One of my cardinal rules for off-duty carry is "if you carry a gun off-duty, you better carry your badge off-duty." Easy to say, but the rule isn't always followed. 
Bob Cook of Cook's Holsters has found a way to ensure that you always have your badge with you when you carry your plain-clothes and/or off-duty piece. 
In my opinion, this new item from Cook's Holsters is a must for off-duty carry, and for every plainclothes officer, deputy sheriff, or federal agent. In fact, I would put this item into the "life-saving equipment" category.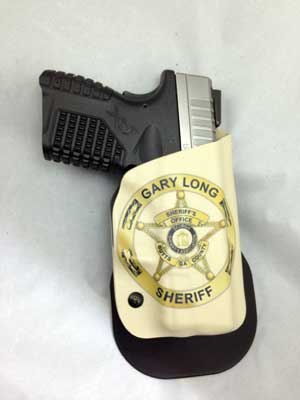 Badge-Infused Holsters
Cook has developed a unique process where he can mold your weapon-specific Kydex holster with your full color badge, shield, or star infused right into the front of the holster. This is not a stick-on decal or a cheap paint job. The image of your badge of authority is infused right into the Kydex material. Bob tells me that they have placed full color shields and/or badges in sizes up to 3" x 2" on the holster front in either gold or silver or any combination thereof. Tan and grey holster colors works best. 
I experimented at length with one of Cook's holsters that he made for Sticky Holsters CEO Mike Christoff with their logo on the exterior, and this thing withstood all the abuse I could give it. Bob tells me that the infused image is impervious to anything you can throw at it or on it. 
Officers need only to email a high-quality digital image of their badge, shield or star to Bob. He can duplicate just about any image into the Kydex and presently makes Kydex holsters for about 200 makes, models, or styles of weapon. 
Every Cook Kydex holster is weapon-specific, so make sure you connect with the Cook Holster staff before you order. They have to know if your weapon has any after-market additions or modifications. Cook's badge-infused Kydex holsters are available in either RH or LH styles. 
All Cook's Kydex holsters are high-quality rigs made in the USA with all-American materials, and every holster comes with a 100 percent satisfaction guarantee. They are priced at $57.95 for the holster plus $20.00 for the infused image. Active-duty officers can email Bob Bob@CooksHolsters.com  from their business email account for a 10 percent LEO discount.

Request product info from top Police Holsters companies
Thank You!