Holster safety!
---
Dave Young, Policeone Training Network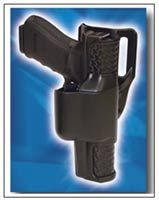 Mike Lowe, the founder of Tactical Design Labs, has spent over 21 years dedicating himself to the profession as a Police Officer and a United States Marine. Tactical Design Labs'' mission statement is to provide quality police equipment through scientific research and field testing procedures, to enhance the safety and awareness of law enforcement officers world wide.
For nearly 15 years Mike trained with and around equipment that did not meet the true performance requirements the street demanded from him and his fellow officers. In the early 1990''s he began to see officer deaths by their own handgun as a problem that had a solution if the industry would enhance equipment designs to fulfill all performance criteria needed on the streets.
According to the FBI Law Enforcement Bulletin if an officer is in struggle for their firearm with a subject the officer stands a very high chance of being shot with their own firearm if disarmed. Between the years 1992-2001, 48 police officers were killed with their own handgun. I am sure this number would be important to you if you or one of your loved ones were one of the 48. This led to the emphasis on retention by holster manufacturers, which created a false sense of security.
Most departments do not have documented information on equipment or a committee in place to test and evaluate equipment, so unfortunately in this industry, we are driven by 2 separate types of protocols, or ways of selecting our police equipment. These two protocols are administrative and operational.
Administrative protocol is base on two principals: appearance and price of equipment. Since officers are given equipment that is not purchased by them it makes it very hard to fault the officer especially when the department does not give them the required time to become proficient with their new equipment, or worst, allow them to offer any feedback during their own selection process. Most sit at a desk and read from a catalog.
The next type of protocol is operational. This means the equipment is evaluated based on durability, functionability and serviceability, and the department has a well-planned documented procedure in place to record and test each piece of equipment before making a purchase. Unfortunately this protocol can be faulted, especially if the buyer takes the words or the manufacturer that designed it, and doesn''t educate themselves properly during the testing procedures.
The result of Mike''s dedication and passion to balance Training & Equipment to increase officer survivability was the formation of Tactical Design Labs, where street knowledge combines with engineering design and testing resulting in products that meet the realistic needs of officers and compliment the science required to train officers to survive high stress scenarios.
Let''s take a look at some general terms of what is currently available prior to this new security plus holster. None of these terms are an industry standard and by no means, should be;
Level 1 - Just grab weapon and pull from holster. Weapon is retained inside holster due to its mold, configuration, and tension from the holster itself.

Level 2 - Just grab weapon, operate a thumb break and pull weapon from holster. Weapon is retained inside holster due to its mold, configuration, tension from the holster itself, and from a safety strap covering the top of the weapon.

Level 3 - Just grab weapon, operate a thumb break, twist, push, pull weapon in a specific direction and pull weapon from holster. Weapon is retained inside holster due to its mold, configuration, tension from the holster itself, and from a safety strap covering the top of the weapon, and special added features that are proprietary to the manufacture, and we need to keep it that way.
Now with the addition of Tactical Design Labs, their holsters have added a new category to what all holsters should be judged for future design and security.
By using scientific evaluations methods and researching actual police encounters of today''s law enforcement officers, Tactical Design Labs has created the ultimate police holster. Tactical Design Labs can base their holster design and safety features from factual references rather then what looks good or what may work. The era they have added to this industry is a Level 4 which we refer to as a "Security Plus:" - Grab weapon, operate a safety release, and pull weapon from holster. Weapon is retained inside holster due to its mold, configuration, tension from the holster itself, and from a safety mechanism securing the weapon, with special added features that are proprietary to the manufacturer enhanced through the latest technology.
We have long needed a security plus holster to defeat disarm attempts, yet not impede their performance or increase critical reaction time when drawing or holstering their weapon. It is well documented that when under stress, our physical motor skills and responses are affected in a variety of ways. We operate in the mind brain, meaning that gross motor skills will take over. So any fine motor skills needs to draw our firearm from the holster might be delayed, therefore hindering our ability to access our firearm when needed.
The "Security Plus," holster design is driven by current research relative to performance under stress. The "Security Plus," holster is the first in the holster industry to fulfill specific and long-awaited features which do not impede performance and impact officer survival.
As Mike adds, it provides the Big Three that have been sorely missing in duty holsters:
1. Safe retention.
2. A fluid draw with the trigger finger ready for shooting.
3. No-look holstering that immediately returns the gun to 100% safety.
The natural drawing of the weapon and ability to immediately re-secure it were overlooked. In times of stress, easy rather than fine motor skills are required. Too often police performance were sabotaged in the face of a hostile adversary.
Can you imagine a "Security Plus," holster with no snaps, no thumb brakes, no hoods, no friction grips, no pulling-twisting, no cranking or rocking the gun for drawing and holstering?
After talking with Mike and through much experimentation, they feel they have eliminated these cumbersome devices and methodology. He hit upon the idea of using the ejection port of the hand gun for securing the gun inside the holster, over the trigger guard due to the difficulty for securing light mounted weapons.
Through use of a safety finger sleeve and locking tab, the gun is naturally drawn and easily returned to its previous secured state. A balance between drawing, retention, and securing is obtained.
Some companies within this industry have taken some of the vital steps to provide the industry with holsters that meet these needs. Please remember that none of this is an exact science, and the individual officer needs to take the equipment in hand, use it themselves, and evaluate it on their own to make sure it is the holster for them. So, I urge you to take the challenge and get a "Security Plus," holster for yourself, and you make the discussion, because after all, it is YOUR life on the line!
- Dave Young
Policeone Training Network

Request product info from top Police Holsters companies
Thank You!