PRESS RELEASE
Rigid Industries Announces Its Acquisition By Truck-Lite
---
Phoenix, AZ – Rigid Industries® LED Lighting, the world's leader in forward projecting LED lighting via its patented optic systems and torture-tested housing, announces its acquisition by Truck-Lite Co., LLC of Falconer, NY., a member of the PENSKE Corporation.   Together, Rigid Industries and Truck-Lite will now offer the complete package of DOT, off-road and accessory LED lighting for not only on and off-road vehicular markets, but markets the world over in a wide variety of heavy-duty and commercial vehicle categories.
Jason Christiansen, CEO of Rigid Industries, said, "We're excited to join the Truck-Lite team. We look forward to partnering and combining our industry experience, and will continue to deliver the same high quality products that have made Rigid the industry name it is today. Our two companies are a perfect fit as we both focus on long lasting products, state-of-the-art technology, and a commitment to world-class customer service."
According to Brian Kupchella, CEO of Truck-Lite, "Rigid Industries provides an ideal platform for Truck-Lite's further expansion into the off road, power sport, agricultural, marine, industrial, and mining markets. It positions Rigid to grow as a major player in the LED lighting industry while maintaining its own distinct brand identity. Rigid has proven themselves a unique and successful company with superior quality, innovation, and a high level of customer interaction."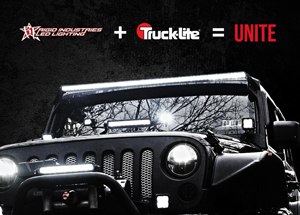 Both Truck-Lite and Rigid Industries take pride that their products are designed, engineered, and manufactured in the USA. With Truck-Lite's 59 years in existence, they have evolved and expanded their technology with headlights, safety lights, signal switches and emergency lighting. Rigid Industries has seen extremely fast paced growth as a leader in forward projecting lighting and it is approaching its 10th year in business. Total employment for the two companies is over 2,400. With customers already in 40 countries, both Truck-Lite and Rigid Industries look to expand their presence in the U.S., Europe, Australia and New Zealand in 2015.
Houlihan Lokey served as the exclusive financial advisor to Rigid Industries.
About Rigid Industries®
Thanks to its unparalleled patented Hybrid™, Specter™ and Hyperspot™ optics and its torture-tested housings, Rigid Industries® is a world leader in the forward projecting LED lighting industry. Rigid Industries® ranked 316th on the Inc. 500 list for 2014 and ranked as the fastest growing off-road LED lighting manufacturer in America. Rigid LED lighting products can be used in a plethora of applications across industries such as: agriculture, construction, emergency response, industrial, marine, military, mining, and, of course, off-road and power sports. Rigid Industries® is committed to providing top-notch, innovative technologies and always guarantees a quality product which has been designed, engineered, and assembled in the USA.
About Truck-Lite
Truck-Lite Co., LLC is headquartered in Falconer, New York, with additional U.S. manufacturing facilities in Wellsboro, Coudersport, and McElhattan, Pennsylvania and Saline, Michigan. International facilities are located in Harlow and Birmingham England; Puebla, Mexico; and Eisenach, Germany. Truck-Lite is a major producer of safety lighting, forward lighting, wiring harnesses, mirrors, turn signal switches, and safety accessories to the heavy-duty truck, trailer, and commercial vehicle industries. To learn more about Truck-Lite, visit their website: http://www.truck-lite.com