PRESS RELEASE
New .22 Magnum Pistol from Walther
---
Lightweight. Rugged. Ready for Adventure.

In life, sometimes the unexpected can happen. Whether it's an opportunity for fun and recreation or maybe even a life-threatening situation, it's your duty to be READY. So, when it's time to hit the outdoors and you need a reliable firearm at your side, the Walther Magnum Pistol (WMP), 22 magnum semi-automatic is the only choice. This isn't just another target practice plinker, this pistol is a high quality, lightweight, easy-to-shoot and affordable option for shooters who want to stay READY while maintaining an active lifestyle.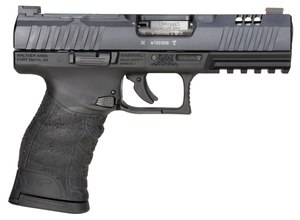 Walther's unmatched quality sets this slide-mounted red dot rimfire pistol apart from the competition with a wide range of features. Featuring an optics ready slide, best-in-class ergonomics, and even a first-time patented ambidextrous reloading mechanism including both the paddle and button release. With 4 total activation points, the Quad release mechanism is the most versatile ambidextrous mag release ever created. Together, all these features help to give shooters a truly premium experience. With two 15-round magazines and 2 optics adaptor plates included plus easy field strip capabilities, unparalleled accuracy and ultra-low recoil, this pistol is READY right out of the box to tackle any adventure you set out on.
Walther Vice President of Marketing and Product Development, Jens Krogh had this to say about it, "The WMP puts Walther in a whole new Category, this pistol is a completely new Platform and is a game changer for us and our customers.  We have worked tirelessly to create the most reliable and ergonomically correct .22 Magnum pistol ever made and it turned out perfect."
Find out more https://waltherarms.com/wmp/
About Walther
"It's your DUTY to be READY" is a message to clearly and concisely show that Walther is doing everything in its power to support shooters everywhere with not just the absolute best in firearm innovation and performance but also access to the best training and informative firearms community as well. History has shown Walther's dedication to this message, beginning in 1886 and continuing today with the innovative spirit that builds off the invention of the concealed carry pistol by creating duty grade weapons such as the PDP and world-class rimfire products such as the P22. Walther will continue its long tradition of technical expertise and innovation in the design and production of firearms to meet the demands of any customer. Excellent service and superior quality will continue to be benchmarks of Walther's success. www.waltherarms.com

Request more info from Walther Arms, Inc.
Thank You!