PRESS RELEASE
CrimeCenter Software launches online investigation management solution
---
The new flagship solution enables web-based case management and enhanced collaboration for investigators.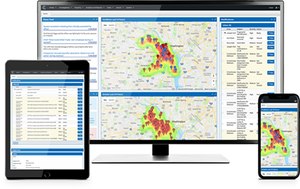 CrimeCenter Software, a modern investigation management software solution developed by law enforcement experts for law enforcement officers, is thrilled to announce it has launched a new CrimeCenter Online Edition, providing law enforcement with unprecedented levels of flexibility and functionality within one single, affordable application, leading to insights that otherwise would not have been available.
The one-of-a-kind, web-based application will deliver increased visibility, accessibility and efficiency for investigators with its advanced analytics capabilities and emerging technology integrations. Hosted in a highly secure and CJIS compliant government cloud environment, CrimeCenter provides a free flow of information between authorized users so they can collaboratively – and intuitively – solve even the toughest cases.
"As a team primarily made up of former investigators and police executives, we have first-hand experience with the challenges that law enforcement professionals are up against on a daily basis," said Michael Cunningham, operations manager, CrimeCenter Software and 27-year veteran of the NYPD. "One of those challenges is capturing accurate investigative information in a case management system and securely sharing it in a rapid manner with investigators that rely on it to solve serious crimes. This application does just that – and it's something we've been working very hard to develop. It will be a user-friendly system that's easy to deploy and maintain by any size agency."
The new offering is a state-of-the-art mobile investigation management system. Its built upon years of experience managing investigative systems for the nation's largest law enforcement agency and leverages that expertise to provide a highly affordable solution to every size agency without sacrificing any functionality or performance. Hosting, support and updates are all included in the budget friendly solution.
To learn more about the new product, click here.
About CrimeCenter Software
CrimeCenter Software is a web-based investigative case management application built by law enforcement, for law enforcement. Accessible on any mobile or desktop device, CrimeCenter delivers intelligent investigation management and analytic capabilities which provides investigators with key information leading to conclusions that otherwise may not have been possible for both internal and criminal investigations. It exists to allow all agencies – small, medium or large – to function more effectively and better serve their communities. Headquartered in Newark, New Jersey, CrimeCenter Software is strategically located just west of New York City.
To learn more, visit crimecenter.com or follow @crimecenter on Twitter, LinkedIn, Facebook and YouTube.

Request more info from CrimeCenter Software
Thank You!