Man, 2 kids found dead after 24-hour Mo. standoff
Standoff began Sunday when police responded to a "check person" call and encountered an armed man at an apartment
---
By Margaret Stafford
Associated Press
SPRINGFIELD, Mo. — Two children who were found dead along with their father after a 23-hour standoff at a Missouri apartment were likely dead before officers arrived, police said Tuesday.
The children were fatally shot by their father, William Williams, who was found dead of an apparent self-inflicted gunshot wound when police entered his apartment Monday evening in southwest Springfield, Police Chief Paul Williams said during a news conference.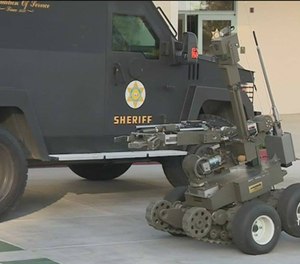 The suspect talked to negotiators about his 4-year-old son, Brodie, and 2-year-old daughter, Marley, but he never said they were dead. Preliminary autopsy results indicate that both children died between 24 and 48 hours before the standoff ended, the chief said.
William Williams, 51, and his wife were divorcing and working on a custody plan for the children, according to his divorce attorney.
The police chief said officers had been called to the apartment once before for domestic violence situation, but Williams was not considered a danger. He said investigators may never know the motive for the shootings.
Police suspected early on that the children were dead and that it wasn't a hostage situation, so tactics shifted to focus on the safety of responding officers and residents, said the police chief, who isn't related to the suspect or victims.
"When it transitioned into an 'armed and barricaded' situation (rather than a potential hostage situation) the sense of urgency goes away," he said. "We're going to stay as long as we need to."
The children's father made several comments indicating he planned to kill himself or wanted police to kill him, the chief said.
"He made comments about 'ending it, it's not going to end well,'" Williams said. "Throughout there was concern... he was wanting us to do that for him."
Officers were prepared to shoot the suspect but he never pointed a weapon or threatened to shoot anyone, the chief said.
The standoff began Sunday evening. Negotiators stopped hearing from Williams between 11 a.m. and noon on Monday but waited several more hours before sending in robots with cameras to investigate.
Several nearby buildings were evacuated. No explosives were found inside the apartment, but officers did find weapons and ammunition.
"I can't think of anything we would have done differently," he said.
Online court records show that William Williams filed for divorce from Brittnee Williams in March 2014. The case was dismissed in the summer, but he refiled in November and the case was pending.
Williams' divorce attorney, Jason Shaffer, said in a statement that the couple had negotiated and approved a parenting and custody plan for the children, and that William Williams never indicated he was dissatisfied with the agreement.
The couple was scheduled to attend a parenting class Thursday, as required before a marriage involving children can be dissolved, Shaffer said.
"My heart is broken by the loss of life," Shaffer said.
Williams worked as a civilian for the Missouri State Highway Patrol between 1988 and 1991, said patrol spokesman Jason Pace, who could not provide any other details. Springfield media reported that relatives and friends said Williams currently was working for CST, or Communications Solutions Technologies.
Copyright 2015 The Associated Press

Request product info from top Robots companies
Thank You!