PRESS RELEASE
DC Metro Sergeant Uses TacMed Convertible Drop Leg Pouch to Save a Stabbing Victim
---
A Sergeant with the DC Metropolitan Police Department recently used his TacMed™ Convertible Drop Leg Pouch to provide lifesaving care to a victim suffering multiple stab wounds.
The victim walked in to the police station while the Sergeant was on duty. He had a stab wound through the trachea, an eviscerating wound to his right abdomen, and a gaping wound to the back. The Sergeant immediately jumped in to action, using almost every component from his Drop Leg Pouch. These components included shears, gauze, and occlusive dressings.
The Sergeant's Drop Leg holster was open and flapping around the entire time he was attending to the victim, and he said that every component stayed in place until he grabbed it for use. The Sergeant was just finishing treating the victim when emergency medical services arrived. The victim is expected to survive with minimal long-term disability.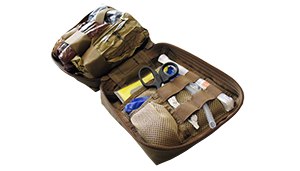 The TacMed™ Convertible Drop Leg Pouch provides the user with maximum flexibility without compromising the ability to provide on-target care. Components include the SOF® Tactical Tourniquet Wide, OLAES® Modular Bandage, gauze, shears, tape, and gloves. More information can be found here: https://www.tacmedsolutions.com/product/drop-leg-pouch/.
About Tactical Medical Solutions
Tactical Medical Solutions Inc.
is a global developer and manufacturer of medical supplies for combat and tactical medicine.