PRESS RELEASE
R.A.T.S. Tourniquets are Back
---
New Inventory Available
The Rapid Application Tourniquet System - R.A.T.S. is one of the most advanced tourniquets available. Designed by a former Special Forces 18D - Medic, the R.A.T.S is the fastest acting tourniquet we have ever used and is battle proven within multiple SOF elements. 
Features:
• 1/2" flat bungee immediately stops massive bleeding
• Design allows for use on smaller extremities found on K-9's or children
• Low profile appearance for optional concealment
• Robust locking system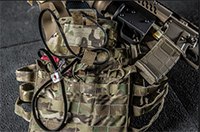 Made in the USA - Order Today!