Spotlight: MPH Industries provides budget-friendly solutions for police agencies
The Ranger EZ prevents mistakes and allows for positive identification
---
Company Name: MPH Industries
Headquarters: Owensboro, KY
Signature Product: The Ranger EZ
Website: http://www.mphindustries.com/
1. Where did your company name originate from?
MPH Industries, since 1975, has been involved in the manufacturing and distribution of speed measurement products. The company name "MPH" is derived from the common acronym for "miles per hour" as our business is speed detection.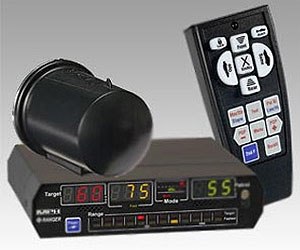 2. What was the inspiration behind starting your company?
A desire to sell high quality and affordable speed measurement devices to law enforcement agencies and introduce advanced technologies to the industry.
3. What is your signature product and how does it work?
The product that sets us apart is the Ranger EZ. The Ranger EZ is the only ranging directional traffic radar on the market. Using MPH's unique Advanced Target Identification technology, the Ranger EZ confirms your visual traffic observations by accurately pinpointing the strongest target, the fastest target, target directions, target distances, and targets in opposite and same-direction traffic. This technology prevents mistakes and allows for positive identification. Ranger EZ also includes SafetyZone, MPH's officer safety alert mechanism. SafetyZone activates an audible warning to alert officers to potentially life-threatening high-speed vehicles approaching from behind their patrol vehicle when the officer is standing on or near the roadway.
A zone of protection can be predefined, and Ranger EZ will alert if a vehicle approaches and does not slow down. SafetyZone can provide several seconds of warning, allowing the officer to assess the situation and move to a safer location if warranted. Distance measurement prevents false alarms from distant, higher- speed vehicles that are too far away to be a threat.
4. Why do you believe your products are essential to the police community?
Radar, LIDAR, radar speed signs and trailers are very important tools that police officers use to calm traffic in school and construction zones or other areas of high pedestrian traffic, and to enforce posted speed limits on highways and city streets. Our products enable police to do their traffic enforcement duties more effectively and accurately. When used properly, our products help to identify the specific drivers and exact speeds of the drivers which more often than not results in the proper evidence in court needed to make a traffic fine stick. The National Institute of Highway Traffic Safety routinely publishes data that shows that as speeds increase, accidents resulting in injury and death increase. Along with the tragic human aspect, there is a very measureable increase in financial losses due to speed related accidents. Our products enable police officers to help keep highways and roadways safe and reduce unnecessary accident related costs to the economy.
5. What has been the biggest challenge your company has faced?
One of our biggest challenges continues to be competition for available funds in law enforcement agencies. From a purely business standpoint, one of the downsides for MPH is the fact that our equipment is reliable and tends to have a long working life. Of course this is excellent for our customers, yet it can make it somewhat difficult to acquire subsequent sales because agencies are still using our products ten to twelve years after their initial purchase.
6. What makes your company unique?
MPH Industries is an employee owned company and our products are manufactured here in Owensboro, KY. Our product line is unique in that we manufacture a full line of speed measurement products from handheld radar and laser, dash mount radar to a wide variety of speed measurement signs and trailers, including variable message trailers. Due to the depth of our product line we are able to provide solutions to fit the needs of agencies – within their budgets.
7. What do your customers like best about you and your products?
We're easy to work with. Our sales reps are knowledgeable and trustworthy with many years of experience in the industry. Our products are easy to use, accurate, reliable and seldom need repair. We support our customers before and after the sale.
8. What is the most rewarding part of serving the first responder community?
Knowing that we provide products that truly save lives. Our products help to save the lives of automobile drivers, pedestrians, children walking to and from school, and others by slowing traffic. As highway speeds increase, studies have shown that injuries and accidental deaths increase. Our radars and LIDARs are used every day in America by law enforcement agencies in their traffic enforcement duties. Our products not only help to save the lives of speeding drivers but also innocent bystanders and pedestrians.
9. Is there any fun fact or trivia that you'd like to share with our users about you or your company?
At the time MPH Industries was founded, police radar antennas were too large to even be used on the dash of a vehicle. MPH engineered speed radar to manageable proportions and continued to lead the way with new technology to improve the accuracy and reliability of speed measurement – including direction sensing radar antennas, distance measuring radars and officer safety radars.