PRESS RELEASE
Laguna introduces its new 2020 Ford utility seat with ready buckle seat belt system
---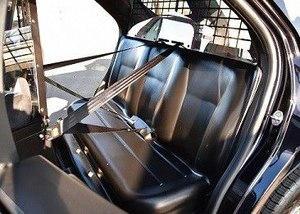 The New 2020 Seat offer lots of legroom and our new bench style design makes it much easier to put in and remove a detainee from the vehicle. Our new system offers Door Panel covers with our patented Ready Buckle Seat Belt System.
About Laguna Manufacturing 
Since 1992 we have been serving the law enforcement community all over North America. Our mission since day one was to provide the highest quality vehicle transport products with officer safety in mind- That mission still continues today. Since the day we opened we focused on seating systems and restraint systems, we continue to keep our company focused on these few items to make sure we're always delivering you the best quality made seating and restraint line in the industry.
Along with our seating line, we're the proud manufacturer of the Patented Ready Buckle Seat Belts. Ready Buckle has been in the market for nearly a decade in use from large to small metropolitan cities and is a FMVSS certified SEAT BELT SYSTEM with ELR/ALR retractors, not a lap belt or belt system but a true seat belt system that will help protect the officer from being in harm's way and give your department the liability protection that you're using a certified seat belt system. If you have any questions regarding a product on our site please give us a call.

Request more info from Laguna Manufacturing, Inc.
Thank You!