PRESS RELEASE
What to do when off-the-shelf products just don't work
---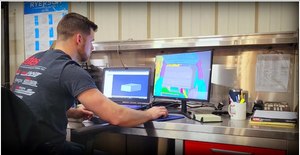 Have you ever looked at a product you ordered for your patrol vehicle and thought, "I wish this one feature was a little different," or "This product would better suit my needs if I could just make small tweaks here and there"? Chances are, you've been there multiple times before, however you're stuck trying to make the best of whatever product you have already purchased. Estes AWS is here to solve that problem for you! Not only do we fabricate and manufacture all the Estes AWS Storage Boxes, Weapon Lockers, and Accessories   that you already know and love, but we also do all the design work in-house. Estes AWS products can be custom designed to meet the changing needs of each department and vehicle. 
Estes AWS Offers Custom Solutions
One of the things that makes Estes AWS so unique compared to other manufacturers is that we offer Custom Solutions not based on what may be easiest for us, but specifically for the needs of the customer. What does this mean for you? If you have a one-off product, whether it be a storage solution or something even more simple such as a rack on which to hang gear, we can design and prototype that for you. You may even want one of the existing products on our website resized to better fit the setup in your vehicle or to accommodate specific equipment you need to store – we can do that too. Our ability to rapidly prototype new products and customize our existing products to work with other equipment in vehicles is very attractive to people who need things to happen fast. Estes AWS doesn't just want to be just another storage solution manufacturer – we want to be your strategic partner for years to come, help you achieve your goals, and watch your ideas come to life.
Custom Design Capabilities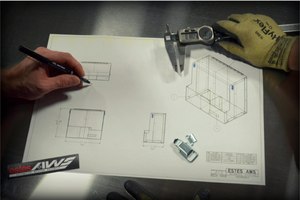 Because Estes AWS is a sister company to Estes Design and Manufacturing, Inc., we have the flexibility and capabilities to take on these types of projects. Estes Design has been in business since 1976, and from that point onward has steadily increased its capabilities by acquiring state-of-the-art machinery, advanced CAD software to easily design and create, and a talented team that turns complex ideas into finished products. We work with people and organizations on all levels – whether it be a product idea with the details only still in your head, a rough paper napkin sketch, or an existing product that needs the kinks worked out, Estes AWS has the tools, ability, and experience to help make your project come to life. One of the biggest assets that Estes Design and Estes AWS share is the amount of combined knowledge we have throughout our team. This knowledge, coupled with our advanced software and equipment, make almost any idea possible for us to design and produce.
We have been able to work with a number of up-fitters and departments over the years on custom projects both large and small, and we don't "finish" a project until the end result exceeds customers' expectations. With everything we have to offer, the possibilities are virtually limitless. If you have a unique need for your department and haven't been able to find a solution, contact us.
The Estes AWS Advantage
Estes AWS products help protect law enforcement and communities alike by designing products that meet a variety of needs. Our Rapid Access Weapon Lockers safely secure weapons out-of-sight but allow the officer to rapidly access them at the push of a button. Weapon lockers are designed to fit in SUVs, Sedans and Pickup Trucks. The SUV Storage Box, Large SUV Storage Box and accessory products help organize equipment so that gear is ready when the officer needs it. With the resources of Estes Design and Manufacturing, Estes AWS continues to improve the products available to the law enforcement community and offers custom design and manufacturing capabilities to make product enhancements and customizations.
Interested in exploring a custom storage solution to meet your unique needs? Contact us today to get started!

Request more info from Estes AWS
Thank You!