Critical thinking vs. perfection during defensive tactics drills
Instead of training for that perfect repetition with a completely compliant partner, let's challenge our students with a "what next" frame of thought
---
Many law enforcement students and trainers spend much of their mat time seeking the "perfect technique" so that they can pass the evaluation. This "perfect technique" usually ends with your partner being the subject falling perfectly to the ground and in the exact position required for your prone cuffing.
Aah, that is perfection: Minimal resistance from our friend to avoid injury to either of us and knowing exactly what the move is supposed to look like and what it is supposed to accomplish. It gets no better than this. You passed your yearly training course, so you are good to go for another year. This kind of training happens class after class, year after year, at agencies all around the country. 
Yet, what is the cost of training students in perfect conditions, with the perfect partner, and ending with the perfect result? The answer: Hesitancy, false sense of confidence, or worse, a shut down or freeze up on the streets when things don't go "perfectly."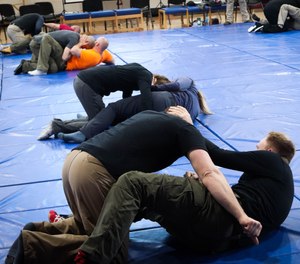 The one variable we have limited control over is the actions, reactions and intentions of the subject that the techniques are being applied on. If the subject has a strong will to fight, some physical skill or knowledge, or a size and strength advantage over the officer, those will all impact the success of the "perfect" technique.
Instead of training for that perfect repetition with a completely compliant partner, let's challenge our students with a "what next" frame of thought: 
What if this wristlock or arm bar takedown does not work? What can or will we do next?
This kind of thinking and problem solving takes place all the time in martial arts gyms and wrestling rooms around the country but seldom on law enforcement training mats. Why is that?
As a former mixed martial arts fighter and a Brazilian Jiu Jitsu student for over 20 years, I can tell you what is missing in law enforcement training is "sparring," "rolling," or simply live resistance in training. This type of training forces you to adapt your technique, think under pressure and form a solution that works for you, your body type, skill and ability at that exact moment with that exact opponent. It is here that we as trainers get to observe our students manage stress, control their emotions, and evaluate their ability to escalate and de-escalate appropriately. 
I call this type of training "confidence drills," with the purpose of the drill being to build the officers' confidence in themselves and their skills. We do this in short durations – 30 seconds, 1 minute, 2 minutes, or up to 5 minutes tops – using this time frame to mimic the length of time they can expect to be in a fight on the street. 
Use well-trained and skilled instructors, trainers, or coaches to be the subject with the students in these drills, but make sure this person has their ego in check and understands their role. You need to push the student to a new limit to build confidence but not past that limit where you create negative training scars and increase injury potential. 
The challenge you will face is that each student is unique, and you will need to be able to adjust the flow of the drill accordingly. 
When ran properly, these drills done at the conclusion of your training block allow your students to leave more confident and excited about the training they just received because you just made them better. Shouldn't that be the goal of every training session?
NEXT: Got 10 minutes? Then run through this scenario-based use of force training session