Police charity lends helping hand to boy battling cancer
To date, Cops for Kids with Cancer has given about $3 million to families across Massachusetts, New Hampshire, Maine and Rhode Island
---
Jill Harmacinski
The Eagle-Tribune, North Andover, Mass.
LAWRENCE — When you see Brendon Cruz's excitement over getting a junior police badge, a miniature police car and a giant lollipop you almost forget he has cancer.
But the 2-year-old has been battling rhabdomyosarcoma, a muscle cancer, since January. He's currently being treated at Tufts Floating Hospital for Children in Boston.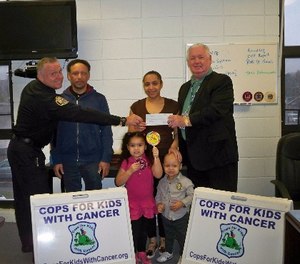 This week, Brendon and his family got a helping hand from Cops for Kids with Cancer.
To date, the charity has given away more than $3 million to the families of children fighting cancer, said Edward McNelly, a retired Boston police captain on the charity's board of directors.
Brendon and his parents, mother, Yeronely Perra, and father, Rafael Cruz, and sister, Kimberly, 4, met with McNelly and Lawrence police Chief James Fitzpatrick Thursday to accept a $5,000 donation from Cops for Kids with Cancer.
The charity provides the money to families to help them with expenses during treatment.
Perra had to leave her job to tend to her son's intense medical needs. And Rafael Cruz is in between jobs, he said.
While the family offered thanks to McNelly, Brendon was busy exploring Fitzpatrick's office at the police station. Fitzpatrick pinned him with a "junior police" badge when he first arrived. A bag of goodies for the boy also contained a giant, multi-colored lollipop which he quickly opened, a gift certificate for Toys 'R Us, a T-shirt, hat and more.
"Drop us a line and let us know how he's doing," McNelly told Perra.
Cops for Kids with Cancer has made several donations in the Merrimack Valley and Southern New Hampshire in recent months.
In late September, the charity donated $5,000 to Methuen's Daniel Herrera-Abreu, a 17-year-old student studying information technology at Greater Lawrence Technical School.
Herrera-Abreu was diagnosed in 2015 with renal cell carcinoma, a form of kidney cancer.
Earlier in September, Cops for Kids with Cancer was also in Lawrence to deliver another $5,000 donation to 9-year-old Carlos Escarraman and his mother, Giraldi.
Cops for Kids with Cancer began in 2002 when former Boston police Capt. John Dow, who was battling a cancer diagnosis of his own, noticed the number of sick children in the hospital around him. A few members of the Boston police held a golf tournament with some Irish police officers, donating the funds to a children's cancer hospital in Ireland. The effort then grew into the nonprofit.
Today, Cops for Kids with Cancer donates $5,000 to six families per month. The only requirements are that there is a need and that the family has a child battling cancer. To date, it has given about $3 million to families across Massachusetts, New Hampshire, Maine and Rhode Island.
———
©2017 The Eagle-Tribune (North Andover, Mass.)
McClatchy-Tribune News Service