NC cops find Glock disguised as toy Nerf gun during raid
"Firearms of this type, while not illegal to possess, are concerning," the sheriff's office said
---
By Suzie Ziegler 
CATAWBA COUNTY, N.C. — A sheriff's office in North Carolina says its deputies found a real firearm that was painted to look like a toy. 
According to the Catawba County Sheriff's Office, a Glock model 19 pistol "had been altered to resemble a toy Nerf gun." Photos taken during a drug raid on Wednesday show the similarities.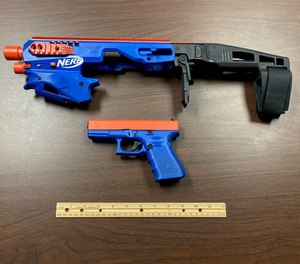 "Firearms of this type, while not illegal to possess, are concerning to law enforcement," the agency said. 
Deputies had been executing a search warrant when they found they found the weapon. Deputies also seized cocaine, psilocybin mushrooms, marijuana and $2,300. A suspect was charged with felonious possession of cocaine and psilocybin and misdemeanor possession of marijuana.