Head of Missouri State Highway Patrol to step down
Retiring in May after a five-year stint of guiding the agency through several contentious situations, including civil unrest in Ferguson
---
By Summer Ballentine and David A. Lieb
Associated Press
JEFFERSON CITY, Mo. — The head of the Missouri State Highway Patrol is retiring in May after a five-year stint of guiding the agency through several contentious situations, including civil unrest in Ferguson and questions about trooper training following the drowning of a handcuffed suspect.
Gov. Jay Nixon announced Col. Ron Replogle's retirement Wednesday while praising his work and stressing that he was leaving because he wanted to spend more time with his family.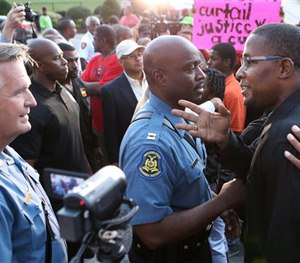 "Col. Replogle has been every bit the leader that I expected — demonstrating courage, conviction, intelligence, and integrity," Nixon said.
Replogle, 54, has served as patrol superintendent since 2010 and has been with the agency for 31 years.
"I can assure you this decision was strictly to spend more time with that family," Replogle said.
Nixon said he will appoint Maj. Bret Johnson, 56, who is the commander of the field operations bureau, to take over when Replogle retires on May 1. Johnson's nomination will be subject to Senate confirmation.
Under Replogle's leadership, the Highway Patrol has repeatedly been in the spotlight — sometimes because of circumstances outside of its control; other times because of decisions the patrol made.
Most notably, Nixon directed the patrol to take the lead on security in Ferguson after clashes between protesters and local police following the Aug. 9 shooting death of Michael Brown. Those clashes eventually subsided as the patrol tried a variety of approaches, from walking with protesters to enforcing a curfew.
Lawmakers also have criticized the patrol's handling of a 2011 merger of the state's water patrol agency into its operations in what had been intended as a cost-saving move. College student Brandon Ellingson drowned at the Lake of the Ozarks last year after being arrested on suspicion of boating while intoxicated and handcuffed by a trooper who hadn't used the right water flotation device on him. That led to a series of legislative hearings focusing, in part, on whether officers are getting enough training on water safety procedures.
In 2013, legislators criticized the Highway Patrol for spending $5.6 million on a new airplane that has been frequently used by the governor and for giving a federal investigator a list of Missouri residents with concealed gun permits.
Nixon said Replogle has been a good leader, not only during the agency's criminal investigations and traffic patrols, but also by assisting local law enforcement "in their times of need," such as natural disasters.
Johnson has been with the patrol since 1986.
"He leads from the front, and I trust his counsel," Nixon said of Johnson.
Copyright 2015 The Associated Press