NY police chief follows in father's footsteps
Chief Robert Frankland is taking on a position his late father held for six years
---
This article is reprinted with permission from the Rome Sentinel.
By Sean I. Mills
NEW YORK MILLS, N.Y. — The new police chief in the Village of New York Mills is a familiar face to many residents: Robert C. Frankland is the new top cop, a position his father previously held for six years.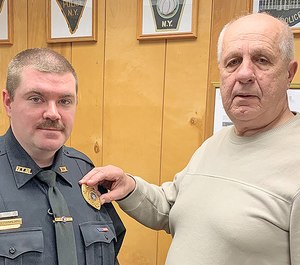 Frankland was voted into the position unanimously by the Village Board on April 14. He was promoted to chief from sergeant. Frankland will take over from retiring police chief Donald Wolanin.
"It is an extreme honor. I can't wait to show the village residents that I'm here for them," Frankland said.
"I look forward to serving them and showing them that I can make this police department a great department, and make it a safe community."
Frankland, age 30, has been in law enforcement since 2011. His wife, Julianne, is a police officer at SUNY Polytechnic Institute in Utica. Frankland said he was born and raised in New York Mills.
His father, Bradley Frankland, served as chief from 2002 to 2008. He passed away in 2017.
"I've always looked up to him, and I wanted to follow his footsteps, so I got into law enforcement," Frankland said. "When I got the opportunity to become police chief where he was, I couldn't turn it down."
Frankland graduated from the Cazenovia Police Academy in 2011 and spent several months as a patrolman with the Frankfort Police Department before becoming a deputy with the Oneida County Sheriff's Office. He spent several years with the DWI unit before he said New York Mills village officials approached him about the possibility of becoming chief.
Frankland was already working as a part-time patrolman for New York Mills, so he was promoted to sergeant in 2018 to start learning the ropes to become chief of the department.
"I plan to do a lot more community policing," Frankland said about his plans for the agency now that he's in charge.
"I strongly believe in the 'broken windows theory.' You discourage smaller violations to try and deter people from coming in and committing larger violations."
The New York Mills Police Department has four full-time officers, including the chief and one sergeant. The department also has eight part-time officers.
The police department offices are located within the New York Mills Municipal Building on Maple Street.