4 things to know about the FBI's latest homicide statistics
Because crime is politicized and reported in its extremes, it is hard to convince the general public that Americans are in one of the safest eras in human history
---
There is no more reliable FBI crime statistic than the murder count. The numbers are in, and murders are up. A recently released report from the National Institute of Justice considers two possible causes: more drugs and less policing.
The report, Assessing and Responding to the Recent Homicide Rise in the United States, readily admits the challenges and potentially misleading methods of measuring causes of crime, something that researchers and law enforcement alike have debated since Cain killed Abel.
"The recent homicide increase in the United States was not only large, it was also relatively sudden and unforeseen. The sheer abruptness of the increase makes it especially difficult to explain," the report states.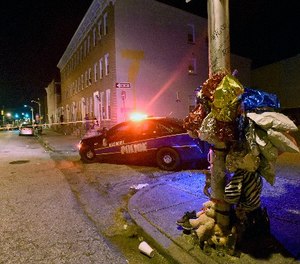 A quick look at the numbers
Headlines about the report can mistakenly lead readers to believe that there is an alarming nationwide increase in murders.
Unless you're in one of the 14 U.S. cities with murder rates up over 25 percent, violent crime increases are relatively low. This is also in the context of a 25-year pattern of violent crimes declining over 50 percent since 1993.
Because crime is politicized and reported in its extremes, it is hard to convince the general public that Americans are in one of the safest eras in human history. Still, when we hear that the homicide rate increased by over 11 percent from 2014-2015, alarm bells go off. That was the biggest single year increase since 1968. Hopes that the jump was a statistical anomaly were dampened when homicide rates increased again from 2015-2016 by over 8 percent.
Location, location, location
Trends are not uniform nationwide. Murder rate increases occurred in large cities. The numbers from just Baltimore and Chicago accounted for about one-quarter of the total increase in big-city homicides in 2015.
The report further states that "Ten cities accounted for two thirds of the 2015 big-city homicide rise that year. Chicago contributed just under half of the big-city homicide increase in 2016, and 10 cities accounted for nearly all of the increase in 2015."
Of the 46 cities with 30 or more homicides per year in 2015, 32 showed an increase in murders over 2014, and 14 had the same or fewer in 2015 over the previous year. What that averages out to is a significant 17.2 percent increase: the math is owned by the 14 cities with a 25 percent increase or more, and the 9 cities with a 50 percent increase or more. The ratios for 2016 are similarly proportioned.
The urban areas with the most dramatic increases are also those with high rates of opiate-related deaths, and where police relations with the African-American community are strained due to highly publicized allegations of police misconduct reported to be disproportionately directed toward minority citizens.
No black and white conclusions
The simple formula that observers are likely to conclude is that murders and other violent crime have increased, along with an increase in opiate drug deaths, because police officers are less likely to engage with suspected criminal activity for fear of escalation, lawsuits and complaints.
Conversely, minority community members will be less likely to summon police or cooperate with them when lingering mistrust from publicized cases exists.
The result has been called "de-policing" or the "Ferguson effect," and has been given credibility by FBI reports, along with an apparent increase in ambush attacks on police officers.
Although the report hints at this a plausible theory, there are cautions to that conclusion:
Increases in homicides of whites and Hispanics, as well as perpetration of murders by those demographic groups, were a significant portion of the increases in murder rates. This is inconsistent with a theory that scripts higher rates of killings just within the black community.
As with all sociological studies, finding a baseline that pinpoints a single cause or cluster of causes associated with a particular crime increase (known as criminogenic factors) is a challenge. To determine any relationship between crime increases, there must be an accurate measure of police activity (staffing, specialized enforcement efforts and arrest statistics) and any number of community factors to compare before and after any unusual jumps or reductions in crime. Or cities without changes in crime rates must be very similar in many ways to cities with changes in crime rates in order to compare for criminogenic factors.
Community mistrust following a negative incident is not permanent, according to studies cited in this report. While long-standing divides may exist in a region or city, the levels of reported trust, police activity and calls for service may change after an incident, but return to the pre-event level within one to three years. The timing of these events and the rise in homicides in affected communities is not an exact correlation.
The 2016 FBI annual crime report curiously leaves out the traditional tables showing relationships between victims and their killers, thus reducing a reader's ability to draw conclusions on any change in the nature of murders. In 2015, 40 percent of those relationships in murders remains a mystery, and clearance rates remain at around 60 percent. These gaps in our knowledge make conclusions about causes much less accurate than the ideal.
Less policing, more crime
Even without a statistical certainty, researchers, police leaders and community members cannot ignore the fact that fewer interventions of suspected criminal activity by law enforcement invite more offenders to engage in crime. More drugs, more death and more street justice or no justice occurs when the police are unable to be effective.
The good news is that most communities remain relatively safe and connected with their police services. The bad news is that where that isn't true, it seems that more people die violently.
Assessing and Responding to the Recent Homicide Rise in the United States by Ed Praetorian on Scribd