Denver's police-free mental health response team sees early success
The team responded to 748 low-level calls since June, none of which required police or led to jail time, according to a new progress report
---
By Suzie Ziegler 
DENVER — A new program that sends health care workers instead of police to non-violent calls appears to be working. That's according to a six-month progress report released last week. 
The Support Team Assisted Response (STAR) responded to 748 calls during its first six months, reducing police calls by 2.8%, the report reads. None of the calls required police or led to arrests.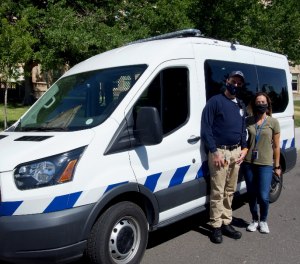 The two-person team – a mental health clinician and a paramedic – handled about six calls a day, Monday through Friday, in "high-demand" neighborhoods, the report says. They handled low-level calls like trespassing and mental health episodes, according to Denverite. 
"This is good stuff, it's a great program, and basically, the report tells us what we believed," Police Chief Paul Pazen told Denverite. "I see this as an 'and.' Not an 'or.'" 
The program has been in the works since 2019 when voters approved a grant to combat mental health and substance abuse. 
Right now, STAR only operates weekdays during normal business hours. Pazen says his goal is to give STAR enough staff to take calls at all hours. 
Carleigh Sailon, one of the workers on the team, tells Denverite that more vans, food and blankets – as well as weekend and late-night shifts – will do good things for the program. 
"We run an unbelievable amount of calls for such a limited pilot program and have had some really good outcomes on those calls," Sailon said. 
STAR organizers believe the program is working well. In fact, about 35% of STAR's calls came from Denver Police officers themselves, according to Denverite. 
"I think it shows how much officers are buying into this, realizing that these individuals need a focused level of care," Dr. Matthew Lunn, who authored the report, told Denverite. 
Pazen says the money that STAR saves on police calls will go toward fighting crime. 
"I want the police department to focus on police issues," Pazen said. "We have more than enough work with regards to violent crime, property crime and traffic safety, and if something like STAR or any other support system can lighten the load on mental health calls for service, substance abuse calls for service, and low-level issues, that frees up law enforcement to address crime issues."
NEXT: Roundtable: How to develop a successful mental health intervention program