1 dead, 7 hurt in shooting, stabbing at Denver expo
The incident involved members of biker clubs
---
Associated Press
DENVER — Two motorcycle groups are blaming each other for a clash at a motorcycle show that left one person dead and seven others injured.
Police have said that bike club members were involved but have released few details about the incident that occurred early Saturday afternoon at the Colorado Motorcycle Expo.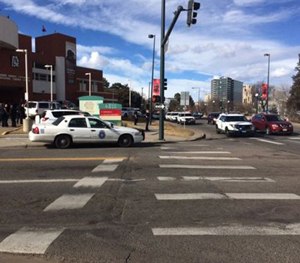 "As far as I know at this point we still don't have any arrests," Denver Police Department spokesman Raquel Lopez said Sunday.
Police Chief Robert White said Saturday that the incident involved members of biker clubs but he declined to identify the clubs. He said the person who died and three of the wounded were hit by gunfire. Another person was stabbed and three others suffered injuries from a fistfight, he said.
Denver Health Medical Center, where the injured were being treated, said three patients remained in critical condition and three in stable condition Sunday.
Police did not release details about what happened and have not released any names. But lawyers for separate motorcycle groups offered their own versions of what occurred.
Las Vegas attorney Stephen Stubbs, who represents the Mongols Motorcycle Club, said in a telephone interview Sunday that the person killed was a member of the club. Another club member was among the injured, Stubbs said.
He said members of a separate group, the Iron Order, instigated the clash.
John C. Whitfield, an attorney representing the Iron Order, said the brawl started when three Iron Order members were jumped by members of the Mongols. One Iron Order member was shot, another stabbed and a third beaten, Whitfield said.
Iron Order had about 15 members in attendance, he said. The club includes military members and law enforcement officers, Whitfield said.
Stubbs said he believes Denver police are releasing few details because the Iron Order membership includes law enforcement officers.
Lopez said few details were being released because investigators were still trying to piece together what happened.
The Colorado Motorcycle Expo was being held at the National Western Complex and was scheduled to go through Sunday, but the city ordered organizers to cancel its Sunday events after the incident.
A statement posted on the event's website said it didn't have any information and apologized to vendors and patrons for any inconvenience.
Copyright 2016 The Associated Press