S.C. agencies use facial recognition to identify rioters
The Richland County Sheriff's Department and Columbia Police Department have charged over 80 people with crimes related to George Floyd protests
---
David Travis Bland
The State (Columbia, S.C.)
COLUMBIA, S.C. — Richland County police are using facial recognition technology and combing social media to arrest people tied to the violence and unrest that followed peaceful protests in late May.
The Richland County Sheriff's Department and Columbia Police Department have charged more than 80 people with crimes, ranging from curfew violations to arson of police vehicles, after unrest escalated from social justice protests on May 30 and 31 in Columbia. The protests followed the killing of George Floyd in Minnesota.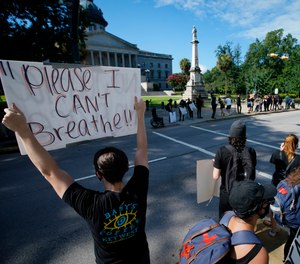 Richland County sheriff's deputies charged 18 of those people, and at least one was identified using facial recognition technology, according to a department spokesperson. Social media postings helped lead to the arrest of three others.
The Columbia Police Department also used facial recognition to help identify suspects but did not specify how many arrests were aided by the technology.
Both agencies are looking to arrest more people in connection to the protests.
Facial recognition technology is being used by more police agencies across the country to identify and charge suspects. "It's another tool at our disposal to help us solve crimes," Richland County Sheriff Leon Lott said. "It's helped us do a better job of protecting our citizens."
But it also is controversial, with the ACLU and other critics saying it is racially biased and an invasion of privacy.
The executive director of the American Civil Liberties Union of South Carolina called facial recognition the "most concerning" technological development at polices' disposal.
How does it work?
The South Carolina Information and Intelligence Center operated by the South Carolina Law Enforcement Division houses the state's facial recognition technology, which uses components of software developed by two companies in Japan and Colorado. The technology bundles, which include ways to create databases of mugshots, is sold by DataWorks, a Greenville, South Carolina based company founded in 2000.
SLED got the technology around 2010, the agency said. The Richland sheriff's department began using it about that time, a spokesperson said.
Any police agency in South Carolina can ask SLED for assistance in an investigation. The agencies can send SLED images taken from security cameras, police body cameras, cell phone video, social media or any other source.
The facial recognition program compares the image to millions in a database of drivers license images, jail booking photos, and other law enforcement repositories of pictures. The program does not scan the internet for images, DataWorks said.
After comparing images, the facial recognition program supplies SLED's intelligence division with a list of photos and identities of people who look like the original uploaded image. SLED provides the list of photos and names to the police agency that requested help.
"Facial recognition is but one of a myriad of investigative techniques and resources available for use by law enforcement when needed in the course of an investigation," SLED spokesperson Tommy Crosby said in a statement.
The Richland sheriff's department, Columbia Police Department and SLED all emphasized that facial recognition technology is one step in the investigative process. The technology alone does not lead to an arrest. Rather, more evidence must be gathered before someone identified as a potential suspect by facial recognition is charged.
Every list of candidates from SLED is sent to a local agency with the disclaimer: "This is not a positive identification and is not probable cause to arrest. Further investigation is needed to develop probable cause to arrest."
Opponents of the technology say it is too unreliable and racially biased. They say the technology furthers systemic criminal justice system problems that harm people of color.
Studies, including one by the federal government, and media reports have shown facial recognition can be 10 to 100 times more likely to misidentify Black and Asian people than white people. The technology is best at finding middle age white men, other studies have shown, meaning that people of other races and ethnicity are more likely to be misidentified, according to Frank Knaack, executive director of the ACLU of South Carolina. Misidentifications feed into systemic criminal justice problems that already disproportionately harm people of color, he said.
"Policing has been a tool to oppress Black and brown communities and it continues to be," Knaack said.
Using technology that's known to be biased and to have a high error rate with Black and brown people is "a recipe for disaster," he said.
Facial recognition technology has been tied to at least one false arrest in Detroit, according to The New York Times in June.
In January, Detroit police wrongfully arrested a Black man for breaking into and stealing from an upscale boutique. From a surveillance camera image that Detroit police uploaded, facial recognition technology determined the 42-year-old man may be the person in the image. But the technology and police got the wrong person.
The article made it clear that shoddy police work was as fundamental to the false arrest as the facial recognition technology.
The technology used by Detroit police is the same as SLED's.
"[Police] need to apply the right policies and procedures so that a human doesn't make a mistake at the end of the process," said Todd Pastorini, a general manager of DataWorks, which supplies the technology to SLED and about 20 other police agencies in the United States.
Privacy and safety
Knaack, of the South Carolina ACLU, said he worries about law enforcement using facial recognition technology to track people engaged in lawful activities. Among the dangerous scenarios are police tracking what church someone belongs to or monitoring visitors to abortion clinics, Knaack said.
The justification for using the technology is part of a longer narrative pushed by federal and local authorities since the Sept. 11 terrorist attacks, Knaack said. Police argue that people have to give up civil liberties for more security, but that's false, he said.
"Our privacy enhances our safety," he said. "Look at door locks, look at blinds. We have passwords on our computers. We use encryption. Those things have all made us safer. ... [Authorities] are trying to camouflage a hugely invasive tool under the false guise of protecting our security."
The technology harms First Amendment rights, particularly the right to assemble, Knaack said, calling facial recognition another intimidation tool that authorities use to stamp out protests.
People should be able to go to a protest without worrying their photograph is going into a huge database only accessible by police, Knaack said. Additionally, the technology allows police to glean information that they typically have to get a search warrant to obtain.
Richland sheriff's department investigators aren't photographing crowds and adding images to a database, Lott said. But deputies will use the technology to search for people who break the law.
Lott, and police leaders nationwide, say facial recognition matching is just like fingerprints and DNA matching. Fingerprinting and DNA evidence were both scrutinized when developed as investigative tools but are now accepted. Similarly, facial features are unique to a person like fingerprints and DNA, police say.
Knaack pointed out that fingerprints and DNA also have flaws.
Social Media
The Richland County Sheriff's Department also uses social media in a variety of ways during investigations.
The department uses social media to ask for the public's help finding people depicted in surveillance and police body camera footage. And investigators also dig through users' profiles to verify the identities of suspects and to gather evidence.
"People who use social media to live stream what they were doing that day, we use that also," Lott said.
That means anybody's social media and not just a suspects.
The sheriff's department gathered evidence on social media against at least three people charged in connection with the May protests.
Deputies charged 31-year-old Randal Metcalf with rioting and breach of peace. Deputies said Metcalf stole police property and was "egging on the crowd" during the unrest. Part of the evidence investigators found was a social media post in that appears to picture Metcalf. In the post, he wrote "My spoils from the fight," referring to the unrest and a lanyard around his neck. The lanyard in the photo is said to be from a "police baton," according to the post.
Deputies also charged 24-year-old Datrion Gamble with rioting and aggravated breach of peace. Deputies said Gamble used a large wooden cane to pelt a Columbia police vehicle and to strike the shield of a Columbia police officer who tried to protect the vehicle.
The sheriff's department sent a video to local media that investigators gathered from a social media account that showed someone with a the large cane hitting the windows of an unmarked police vehicle. Deputies also found a social media image that depicts a man making an obscene gesture next to a police car that's been damaged and spray painted.
Authorities said the man in the video and in the image is Gamble.
Marcello Woods, 27, was charged by the sheriff's department with arson of a police vehicle, auto break-in, rioting and aggravate breach of peace. Part of the evidence against Woods was a social media video that deputies said showed Woods trying to break the door off a police vehicle that was later burned. The video, which was also provided to local news media, also shows Woods wearing a stolen Columbia Police Department jacket, authorities said.
Social media gives police easy access to photos and other information. In many other instances, investigators must convince a judge to issue a search warrant before accessing evidence in a person's home or car or on smart phones. But because of the unregulated and public nature of social media, police can grab photos and other information posted there without warrants, lawyers said.
Todd Rutherford, a defense attorney who represents Metcalf, said he's seen police wrongly use evidence gathered on social media in court.
"We have to bring to their attention that a picture was four to five years old," he said. "Their assumption is it's all real and it's instant."
For example, police may find a photo of someone at a protest from five years ago at the State House and assume that image was from a protest a couple weeks ago.
Police also assume a photo from social media isn't altered, Rutherford said. Dates, locations and the image itself on social media can easily be falsified.
Despite social media's usefulness for law enforcement, their best tool is citizen support, Lott said.
"Community tips are by far where we get most our information," he said.
New technology and unscrutinized investigative techniques, no matter their power, haven't replaced police basics, according to Lott.
In Gamble's case, Lott was driving near the corner of Assembly and Gervais streets a couple days after the May protests, the sheriff told The State. He saw a man get out of a car holding the large, distinct cane that officers had seen a person using to bash a police car. Lott got the tag number and looked up the information, which led investigators to identify Gamble and arrest him, the sheriff said.
"Sometimes it's luck, sometimes it's good detective work, sometimes it's new technology," Lott said.
©2020 The State (Columbia, S.C.)
McClatchy-Tribune News Service