Video conferencing and collaboration tools for law enforcers
Using everything from sophisticated TelePresence solutions to simple online meetings, police can achieve improved effectiveness and arrest rates
---
It's long been said that "a picture is worth a thousand words," but what does that say about video? In essence, video is basically dozens of pictures per second, often accompanied by sound. Altogether too often in law enforcement, we think about video from the standpoint of after-the-fact usage, not live, real-time video streamed over the Internet. We think of video used in training like that which you'll see during a Street Survival Seminar, or as evidence presented at trail. We think also of citizen-shot footage that ends up on YouTube. We rarely contemplate the potential upside that live video conferencing and collaboration has for law enforcers.
A month or so ago, I wrote a Police1 column about the Cisco Network Emergency Response Vehicle (NERV), a rapidly-deployable mobile command and communications resource for public safety personnel in mass-casualty and mass-emergency situations. In essence, the NERV helps first responders from all disciplines to establish real-time communications in mass-casualty and mass-emergency situations. Those interoperable communications capabilities run the gamut from LMR (Land Mobile Radios), to P25 (Project 25) radios, to 4G LTE (Long Term Evolution) mobile devices, as well as POTS (Plain Old Telephone Service) lines. Importantly for this discussion, I had mentioned that the NERV also has TelePresence (live video conferencing) and IP telephony on-board, giving emergency managers and on-site responders significantly enhanced situational awareness.
I recently caught up with Bob Stanberry, who leads Cisco's public safety team, to talk further about video conferencing and as it relates to increasing situational awareness for police officers. Why did I choose to talk with Stanberry? Well, primarily because he is a former chief of police who has more than 15 years experience in law enforcement, justice, safety, and security in both the public and private sectors. Secondarily, because of his knowledge and expertise about the variety of video conferencing solutions out there I knew I could get a complete picture of what law enforcement agencies are doing with this technology, not just with mass-casualty and mass-emergency situations, but also day-to-day police work.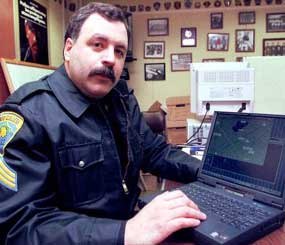 Better-Informed Deployment Decisions
"I think overall what you're talking about from a video standpoint is the situational awareness for public safety," Stanberry told me. "The key thing to understand is that by utilizing video technology in an array of different ways, officers and agencies are getting better situation awareness. This then gives everybody the right information, getting the right information to the right people at the right time to make the right decision."
For example, some call centers are now adding the capability to monitor live video feed over an IP (Internet Protocol) backbone. We're not talking about adding dozens of video screens being constantly monitored by people — there are plenty of other screens for call takers and dispatchers to monitor already. We're talking about video that is analyzed by software programs to find "discrepancies" and "inconsistencies" and "anomalies" that could be investigated further.
Let's say that a suspicious package has been left underneath a bridge where there is some video surveillance element in place. A system could recognize that something — the suspicious package — falls outside the accepted parameters in the software, a message sent to a dispatcher or call taker to determine what to do with the situation. A brief look by the human operator can be quickly followed by specific orders to nearby officers or first responders in that area.
"Something like 99 percent of all video surveillance that gets recorded is never even looked at. We want to start using this video more proactively as much as possible in reacting to specific cases, as well as going back and building investigations after the fact," Stanberry said. "On this particular side, bringing that information in and mining it, and allowing the information to add up, to actually send the appropriate resources to an incident before it happens or while it is happening actually makes a big difference."
High-Def, High Tech, High Impact
The word TelePresence refers to a way for people ("users" in geek speak) to feel as if they are present at a meeting, or have present at a meeting others who really are someplace else. This is more than simple video. This is usually a group of technologies consisting of a high-definition television, a high-end sound system, and a variety of other little accoutrements which help you achieve this illusion. These systems are commonly found in JTTF facilities, Fusion Centers, and big city department headquarters, but you're seeing them more and more in small and mid-sized agencies, as well as in places like courtrooms.
Think about the amount of time a single patrol officer has to spend getting to and from a court appearance. If a court date is set for Monday at 1330 hours and the court is 30 minutes away from the PD, you're looking at 60 minutes (minimum) of drive time, some X number of minutes of time to park, and some Y number of minutes sitting around (you have to be early for court, after all), waiting for the proceedings to begin. If X + Y = 30 minutes (a very conservative estimate) and you have 10 cops with court appearances in a week's time (again, a laughably conservative estimate) you're looking at 15 hours of patrol time not being done.
"There is a lot of cost savings for agencies across the country utilizing the video, where the officer does not need to go all the way to the court, and they can still be on the road where the public needs them," Stanberry said. "Instead of having a detective spending all that time constantly going back and forth between the judge or the court and the prosecutor, they could potentially do a lot of stuff from the station. When there's several miles — 20, 50, even 100 miles — between them, there's substantial cost savings."
While this is certainly not happening everywhere — it really all depends on the jurisdiction on whether the magistrate and the prosecutors will allow it — the concept is catching on. This could be because in those places, the courts themselves are seeing a strategic advantage in this technology.
"The court is doing the same thing in trying to save money on the court's side," he said. "We're seeing a trend in things like expert witnesses. Instead of coming to Chicago from Georgia, put them on live video in the court — it saves possible thousands of dollars" in airfare and hotel. "The court utilizing this technology will certainly make a huge difference."
Likewise, local police and sheriff departments are utilizing video for remote arraignment and are realizing a significant reduction in their prisoner transport expenses.
The "Everyman's Video Conferencing" Solution
As you might imagine, TelePresence systems are not cheap. When you do the cost-benefit analysis following a period of time in which the system is well used, the return on investment is usually very significant, but still, in these tough economic times you may get the door slammed in your face if you "pitch" it to City Hall. If that's the case in your department, you should consider starting out with something that costs very little money (comparatively speaking) and has an almost immediate impact of officer effectiveness. I'm talking, of course, about WebEx and other such online video and collaboration services.
"WebEx is a really good solution for agencies throughout the country," Stanberry explained. "WebEx can be set up easily on any PC, it doesn't matter what computer for the most part, and everybody has a type of computer that can support it. WebEx can be sitting on a Lieutenant's desk, Sergeant's desk, Detective's desk, or any other desk."
This technology has been around for more than a decade, but for the sake of those who might be unfamiliar with it, here's a brief explanation. With WebEx you can:
• communicate and collaborate without buying hardware or installing software
• share documents and images such as phone records or crime scene photos
• share surveillance video, streamed to everyone's desktop simultaneously
• use webcams from one to one or one-to-many, getting toward TelePresence
• all with airtight security, using either 128-bit SSL or 256-bit SSL AES encryption
When I think of the classic WebEx "use case" in law enforcement, it's probably in the area of investigations involving multiple agencies in multiple jurisdictions. If you have detective bureaus for departments in five or six counties all their addressing a series of crimes (from property crimes to the most heinous offenses imaginable), you can enable real-time inter-agency collaboration which would otherwise be all but impossible. If one detective has a break in the case, they can almost instantaneously call a meeting, share the information, and carry on with the arrest phase of the investigation.
"Instead of getting in a car and traveling, taking them off site from their jurisdiction, they could be at their desks. They could be in their patrol car. They could be at home. They could bring up a WebEx for everybody, where everybody is up and running and every agency is represented, and you are sharing photos and information," Stanberry said.
Enhanced Effectiveness, Increased Arrests
Secure online meetings offer practicality, convenience, and security, which is why they are fast becoming the preferred method of collaboration and communication. For law enforcement, time saved can be allotted toward the investigation that may not have otherwise gotten as high a level of attention because of the case volume. Money saved can be allocated toward life-saving tactical training for officers on the street, or better equipment used in the commission of an officer's tour on the street.
Regardless of how that time and money saved is used within the organization, it's all but certain that the use of these kinds of collaboration and communication tools — whether you're using a sophisticated TelePresence solution or a WebEx online meeting environment — you can achieve improved efficiency, increased effectiveness, and in all probability greater number of arrests and convictions of bad guys.