What can law enforcement expect from Justice Ketanji Brown Jackson?
Justice Jackson's district court opinions and orders provide an example of her jurisprudential work related to law enforcement
---
Reasonable, intelligent inquiry requires separating fact from fiction. It is something police officers do every day. The recent Senate confirmation hearings for Judge, now Justice, Ketanji Brown Jackson highlighted what happens when facts are ignored: ridiculous stories make the people repeating them look ridiculous.
We have seen this before with other recent Supreme Court nominations where the intended focus on a nominee's jurisprudence devolves into political theater. Nominees to the Supreme Court should be vetted based on their education, experience and commitment to the rule of law. Anything else is static.
Professional experience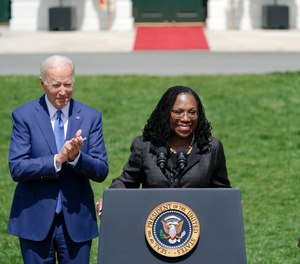 Justice Ketanji Brown Jackson comes to the Supreme Court with the educational and experiential bona fides required of a U.S. Supreme Court Justice.
She is a graduate of Harvard University where she obtained a degree in government before attending Harvard Law School. She served as a Supreme Court law clerk for Justice Stephen Breyer, but prior to that, she held separate federal district court and circuit court of appeal clerkships. Her father was a lawyer, and she has an uncle who was the chief of police in Miami. She also has a distant uncle who served time for a drug conviction. His life sentence for cocaine possession under Florida's "three strikes" law was eventually commuted after she assisted in finding a law firm to take his case on a pro bono appeal.
Along her career path, Justice Jackson was an assistant special counsel to the U.S. Sentencing Commission, an assistant federal public defender and an attorney in private practice at prestigious law firms. She spent over nine years as a federal district court judge in Washington D.C. before being elevated to the U.S. Court of Appeals for the D.C. Circuit on June 17, 2021.
When she takes the bench to hear her first case as the newest Justice, she will have more judicial trial experience than the other junior justices. Neither Justices Gorsuch nor Kavanaugh, who each served 12 years in the federal circuit Court of Appeals, had prior experience as a trial judge. She has presided over many trials, civil and criminal, and sentenced many criminal defendants to federal prison. This is a background, along with her work with the U.S. Sentencing Commission, and undoubtedly her experience with her uncle's case, that will inform her jurisprudence on sentencing issues that come before the Supreme Court.
Justice Brown's short tenure on the D.C. Circuit Court of Appeals provides few examples from which to glean any sense of judicial interpretation at the appellate level. However, she issued many district court opinions and orders during her time as a district court judge. These writings provide an example of the jurisprudential work of Justice Jackson on issues related to law enforcement.
Qualified immunity 
In the case of Smith v. United States, 121 F.3d 112 (D.D.C., 2015), the plaintiff sued based on his arrest and prosecution for charges stemming from using a motor vehicle to aggressively exit from an encounter with a police officer. The case was dismissed with Justice Jackson writing, "the court need not accept as true inferences unsupported by the facts set out in the complaint or legal conclusions cast as factual allegations."
This was a case wherein police officers had probable cause to arrest the plaintiff for a potentially deadly assault upon them. Jackson further wrote, "the recorded events clearly establish that the arresting officers had more than sufficient information upon which to form a reasonable belief that Smith had committed the crimes of assault on a police officer and assault with a deadly weapon."
Similarly, in Page v. Mancuso, 999 F. Supp. 2d 269 (D.D.C., 2013), Justice Jackson dismissed a case wherein a police officer was accused of false arrest and an additional complaint was made against the municipality for a strip search and alleged "over-detention" of the plaintiff. In that case, she wrote, "Based on the facts alleged in the complaint and included in the documents that Page attached to his opposition, a reasonable officer could have found probable cause to arrest Page for destruction of property." Citing well-known language from precedent she also wrote, "It must always be remembered that probable cause is evaluated from the perspective of a reasonable officer on the scene, rather than with the 20/20 vision of hindsight."
In James v. United States, 48 F. Supp. 3d 58 (D.D.C., 2013), she dismissed a police misconduct and defamation claim against a D.C. police officer and several federal agents stemming from the plaintiff's detention on suspicion of assault. The defamation claim was tied to his being handcuffed by the police officer and then a later allegation of defamation associated with his being laughed at by several federal agents over an incident that occurred when he went to file his civil complaint in court.
In Kyle v. Bedlion, 177 F. Supp. 3d 380 (D.D.C., 2016) she held that a police officer was entitled to qualified immunity on an excessive use of force and unlawful arrest claim because at the time of the alleged conduct it was not a clearly established violation of the law. Conversely, in Patterson v. United States, 999 F. Supp. 2d 300 (D.D.C., 2013) she denied the government's motion to dismiss a claim for First Amendment and Fourth Amendment violations against U.S. Park Police officers. The plaintiff, a protester, was arrested for disorderly conduct after using profanity in a public park. The protester was allegedly looking up at the sky and cursed while in a near-empty park. Justice Jackson wrote that the right to be free from retaliatory arrest in the absence of probable cause was a clearly established right requiring denial of the government's motion to dismiss.
Fourth and Fifth Amendment
In two cases, United States v. Leake, 2020 U.S. Dist. LEXIS 112934 (D.D.C., 2020) and United States v. Miller, 2016 U.S. Dist. LEXIS 156639 (D.D.C., 2016), Justice Jackson respectively denied suppression of drugs and a firearm. In Leake she upheld the police stop of an individual in the laundry room of his apartment building and in Miller, a case involving contradictory versions between the suspect and the police, she upheld a plainclothes stop of the suspect by the D.C. police Gun Recovery Unit.
In the case of United States v. Campos, 2018 U.S. Dist. LEXIS 207456 (D.D.C., 2018), a Mexican drug dealer sought to have DEA electronic interception of cellphone calls suppressed. Justice Jackson denied the motion and found "the government's surveillance applications were sufficiently specific to satisfy the strictures of the Fourth Amendment."
The case of United States v. Richardson, 36 F. Supp. 3d 120 (D.D.C., 2014) involved a defendant charged with one count of possession of a firearm and her motion to suppress statements made to the police during the execution of a warrant at her residence. Justice Jackson wrote, "This Court agrees that Richardson was in custody under the circumstances presented here, but also believes that Richardson voluntarily stated – and restated – that the gun was hers, without any compulsion whatsoever." She then engaged in a detailed analysis of the underlying facts and case law to support her denial of the defendant's motion to suppress the statements.
Detention and sentencing
A review of cases concerning detention, sentencing and charging issues reveal the following: in United States v. Terry a motion for bail reduction was denied; a defendant's motion to dismiss child pornography charges in United States v. Hillie was denied; and in United States v. Weekes a motion to modify bail was denied. A defendant's motion for a new trial was also denied in United States v. Johnson, a prisoner's habeas petition was denied in Evans v. United States and in United States v. Seares, a prisoner's request for compassionate release was denied.
While detainees' emergency motions for pretrial release due to COVID-19 conditions in jail were denied in United States v. Wiggins and United States v. Lee, compassionate release was granted in United States v. Dunlap and pre-trial release was granted in United States v. Dabney. In the Wiggins and Lee cases, Justice Jackson found that COVID-19 conditions in the jails did not meet the statutory considerations for release.
Conclusion
The above-cited opinions reflect a small number of the body of cases presided over by Justice Jackson while a district court judge. A review of the opinions she authored reveals a legal professional who follows the dictates of case precedent and statutory law. Time will tell what her tenure on the Supreme Court will be like, but as with any individual appointed to our nation's highest court, she will be joined by eight other colleagues in determining the significant legal issues confronting our country.
NEXT: SCOTUS year in review: Decisions on qualified immunity and Fourth Amendment seizures