Police History: The evolution of motor patrol in American policing
The 1950s saw a heavy reliance on the motor officer to again reduce what had started first in the 1920s: a desire to speed
---
For the last nine years, I've had the pleasure of being assigned as a motor officer. In that time, I've investigated hundreds of crashes, issued thousands of citations, and been the envy of myriad cage-bound coppers. But when, where, and why did my forbearers first bask in the glory crime fighting on two wheels? Further, what is the story of "The Winged Wheel" on my shoulder?
First Days on Motors
Motor units celebrated their platinum anniversary about seven years ago. According to the Harley Davidson website, the first police motorcycle was delivered to the Detroit Police Department in 1908. Not to be outdone, however, the Evanston Police Department in Illinois purchased the first belt-driven motorcycle the same year. 
In 1909, the Portland Police Department allowed an officer to ride his own Indian (LINK)motorcycle on patrol. Portland PD purchased two additional motorcycles at some point thereafter.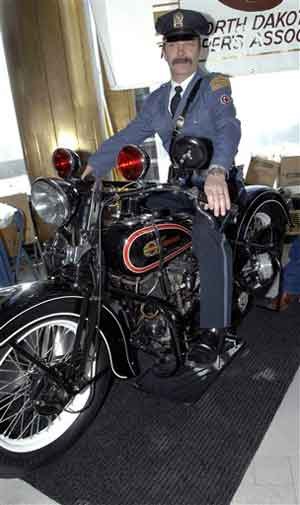 Two years later — in 1911 — the Berkeley (Calif.) Police Department is credited with creating one of the earliest official motor patrol unit thanks to their forward-thinking chief, August Vollmer. Berkeley PD also took it upon themselves to create specific policies regarding the operation and utilization of the motor unit. It wouldn't be surprising if the current policy of most departments made liberal use of Berkeley's original.
War to End All Wars
It wasn't only police departments that were giving motors attention. When World War I broke out, Harley-Davidson aided the war effort by shipping about 20,000 motorcycles overseas. They were effective in dispatching messages before the radio communications become something upon which soldiers could rely. Many of these motorcycles had sidecars which could be retrofitted with machine-gun mounts if needed.
After WWI came to a victorious end, there was a surplus of motorcycles. The transition into police utility after their military usage was a no-brainer. Police departments quickly saw a tactical advantage in the motorcycle. Motors were more agile, responsive, and maneuverable than their other motorized counterparts. Even at the turn of the 20th century — when departments were relying heavily on actual horses — the advent of the steel horse was a harbinger of things to come. 
Mid-Century Advances
By 1920, Harley-Davidson had grown to be the largest and most significant motorcycle manufacturer on the face of the Earth. Speed related fatalities started to go through the roof in the 1920's as both vehicle and motorcycle production significantly increased in combination with a distinct lack of speed enforcement.
Harley-Davidson motorcycles were intrinsic in speed enforcement due to their agility, responsiveness, and maneuverability in comparison to their four-wheeled compatriots. In conjunction with law enforcement, Harley-Davidson created a public campaign to reduce the number of traffic fatalities due to lousy infrastructure and even worse traffic enforcement.
By the end of the '20s, Harley-Davidson motors were being used by about 3,000 different police agencies the world over.
When WWII broke out, Harley once again supported the war effort by shipping almost 90,000 motorcycles. When WWII came to its conclusion, it was police agencies that once again benefitted from reduced pricing of military surplus motorcycles. 
The 1950s saw a heavy reliance on the motor officer to again reduce what had started first in the 1920s. Infrastructure had improved in 30 years, as had the quality of automobile. However, what didn't change much was the desire of people to drive fast. Motor officers were tapped to enforce traffic laws and reduce the incidents of collisions — both injury and non-injury alike — through the issuing of traffic citations.
As the years rolled on, vehicles have become safer, but drivers' penchant for driving unsafely — be it purposefully or not — remains hard-wired in the psyche of most people. Thus, the necessity of the motorcycle in police work remains as relevant today as it was more than 100 years ago. Motor officers continue to patrol our streets and freeways, working traffic details and other important duties to keep the peace on the roads. 
The Winged Wheel
Speaking of 100 years, motorcycles have seen much iteration — whether between different manufacturers or changes within a specific line of motorcycles — but what has been much slower to change is motor officers' uniforms. They have long reflected those of a mounted unit; tall stacked boots and breeches are the iconic uniform of the day for most traditional motor officers. It's only been recently that motor officers have been pushing for more appropriate safety gear like Kevlar pants, actual motorcycle boots, and safer modular helmets.
Along with the different gear we motor officers wear — boots, helmet, gloves, breeches, and the like — we also have different markings on our uniforms. I've worn the "Winged Wheel" on my sleeve for nine years, of which I recently discovered the meaning: 
After an exhaustive search, I discovered a quote credited to Sgt. J. Hughes from the Duchess County (N.Y.) Sheriff's Office:
The Meaning of "The Winged Wheel"
The Wing Represents Swiftness
The Arrow Precision
The Wheel Motion
A Police Motorcycle is Swift Precise Motion