Ohio deputy dies after suffering medical emergency during police academy activities
Deputy Marcus Zeigler was with the sheriff's office for nine months; he is survived by his wife and children
Duty Death: Marcus Zeigler - [Cincinnati, Ohio]
End of Service: 05/26/2023
---
By Sarah Roebuck
Police1
CINCINNATI — A deputy with the Hamilton County Sheriff's Office died after experiencing a medical emergency during police academy activities on May 26, WCPO reports.
Sheriff Charmaine McGuffey said Deputy Marcus Zeigler died while "participating in police academy activities when he experienced a medical emergency."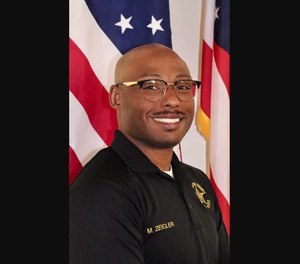 "Deputy Zeigler made a strong impression on us from the moment he started. His smile is unforgettable. He was also known for loving his family and wanting to leave a legacy they could be proud of. And he did just that," McGuffey said in a statement. 
Zeigler was with the sheriff's office for nine months. He was enrolled at the Great Oaks' Peace Officer Academy and was also a well-known entrepreneur. He is survived by his wife and children.
A public visitation will be held on June 2 from 1 p.m. to 3 p.m. Immediately after he will be honored with a police ceremony outside the funeral home.