More details emerge in shooting that killed Colo. deputy
Deputy Micah Flick was Colorado's third law enforcement officer to be killed in five weeks
---
By Kathleen Foody
Associated Press
COLORADO SPRINGS, Colo. — A man suspected in the killing a Colorado sheriff's deputy fired a semi-automatic handgun during a struggle with multiple officers, authorities said Tuesday.
Manuel Zetina, 19, struggled with officers after he exited a stolen vehicle and was confronted in the parking lot of an apartment complex Monday afternoon, according to Colorado Springs police. Zetina was shot and died at the scene.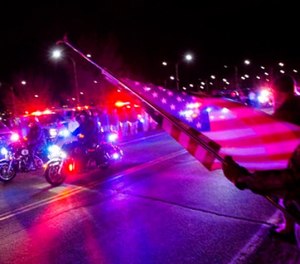 El Paso County sheriff's Deputy Micah Flick, 34, was also killed in the shootout. He was Colorado's third law enforcement officer to be killed in five weeks, marking the closest string of on-duty deaths in three decades.
The last time this many Colorado officers were killed in the line of duty so close together was in 1987, when three were killed within a month.
Sheriff's Sgt. Jake Abendshan, Deputy Scott Stone, Colorado Springs Police Detective Marcus Yanez and a bystander were injured in Monday's shooting.
"A number of other officers" were at the scene but not injured, El Paso County Sheriff Bill Elder said, calling the shooting "senseless violence."
He said the plainclothes officers were part of a group that works together regularly and that they all wore protective vests as well as placards and badges identifying them as law enforcement.
Stone was shot in abdomen and hospitalized in stable condition Tuesday. His injuries did not appear life-threatening, authorities said. Abendshan, who appears to have been hit by shrapnel, was treated and released Monday night.
Yanez, who also was shot, has since been released from a hospital. The name and condition of the bystander who was shot have not been released.
The shooting comes just days after the funeral for Adams County Deputy Heath Gumm, who was shot Jan. 24 while chasing a suspect. On Dec. 31, Douglas County Deputy Zackari Parrish died after he was shot in suburban Denver by a man with a history of mental health issues.
Flick, who grew up in Colorado Springs, was killed on his 11th anniversary with the sheriff's office. He leaves behind a wife and 7-year-old twins, a boy and a girl.
Elder said he believes a lack of respect for law enforcement has developed in the past few years.
"And frankly it just shocks me, it shocks my staff, it shocks the leadership of public safety throughout the country," the sheriff said.
Gov. John Hickenlooper ordered that flags on state buildings be lowered.
"We will once more come together to provide sympathy and strength for the deputy's loved ones and pray for the recovery of those injured; however, we also must come together and say enough is enough," he said in a statement.
Flick's funeral will be held Saturday.