Texas officer who killed gunman in mass shooting cleared
A Plano officer has been cleared for killing the man responsible for the city's worst mass shooting in decades
---
By Valerie Wigglesworth
The Dallas Morning News
DALLAS — A Plano police officer has been cleared of criminal charges for killing the man responsible for the city's worst mass shooting in decades that left eight people dead.
A Collin County grand jury declined to indict the officer last week after hearing evidence about his actions on Sept. 10, 2017.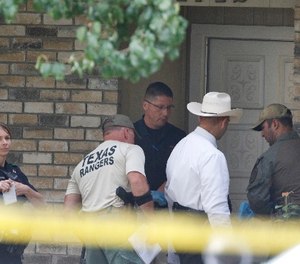 The officer, who has not been publicly identified, was on patrol when he responded to a 911 call just after 8 p.m. When he arrived at the scene, he heard gunfire. Rather than wait for backup, he entered the home, saw several victims and engaged the suspect.
The heavily armed man, later identified as 32-year-old Spencer Hight, was killed in the home he shared with his wife, Meredith, before she filed for divorce last year. Eight others at the home that night for a Dallas Cowboys football watch party were also killed. One woman survived.
Plano Police spokesman David Tilley said Wednesday that the officer reverted to his training, which includes active shooter drills, and made good decisions that night.
"We believe the officer acted appropriately," Tilley said. "It's never the outcome you want with so many dead. But it could have been worse."
The Texas Rangers assisted Plano police with the investigation into the officer's actions. The criminal investigation into the mass shooting continues, Tilley said. Even though there is no suspect to put on trial, police treat it as they would any other fatal shooting, collecting and analyzing evidence to determine what happened.
Evidence showed Hight used an AR-15 rifle that night to fatally shoot his estranged wife and their friends. Also killed were Rion Morgan, 31; Anthony "Tony" Cross, 33; Olivia Deffner, 24; James Dunlop, 29; Darryl William Hawkins, 22; Myah Bass, 28; and Caleb Edwards, 25.
Spencer and Meredith Hight married in Collin County in 2011 but separated in March 2017.
Meredith Hight told her parents that her husband had been violent with her at least twice. One time he slammed her face against a wall. When she filed for divorce last July, she did not request a restraining order.
Friends said Spencer Hight had a drinking problem. He also liked guns.
Investigators found several weapons at the scene belonging to Spencer Hight, including a small folding knife, a large knife, a shotgun, a pistol that was tucked into his pants and the AR-15 rifle.
At his Plano apartment, investigators found a semi-automatic rifle and more than 2,300 rounds of ammunition. They also recovered 481 grams of psychedelic mushrooms, 2 ounces of marijuana and drug paraphernalia, documents showed.
The officer had been placed on administrative leave after the shooting. He returned to active duty after his department's internal investigation was done.
©2018 The Dallas Morning News
McClatchy-Tribune News Service