NFL quarterback becomes Ohio deputy
Cardale Jones might be a few weeks away from reporting to NFL mini-camp with the L.A. Chargers, but the quarterback has already started a new job in Ohio
---
By Jeremy Schneider
The Blade, Toledo, Ohio
PORT CLINTON, Ohio — Cardale Jones might be a few weeks away from reporting to NFL mini-camp with the Los Angeles Chargers, but the former Ohio State quarterback has already started a new job in Ottawa County.
Thanks to a mutual friend, Jones and Ottawa County Sheriff Stephen Levorchick got to know each other. And after Jones admitted if it wasn't for playing in the NFL he'd be in law enforcement or the military, Levorchick saw his opening. Jones is now a special deputy with the Ottawa County Sheriff's Office.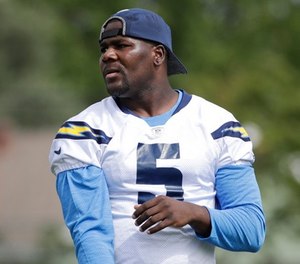 "I was so impressed with him as a person and how he carries himself, just his outlook," Levorchick said. "He cares a great deal about who he is, what he represents and succeeding. He loves our country, he loves the military, and he loves law enforcement, three things that are dear to my heart."
Last Friday, Jones attended a father-son banquet at Trinity United Church of Christ in Elliston, speaking to the parents and kids in attendance. It's those sort of events Levorchick wants to use Jones for.
"What I'm wanting to do, which is not going to be real often because of his schedule, but when he's available ... take him to meet-and-greets with kids, things like that, and help grow that bond between youth and law enforcement," Levorchick said.
Jones is best known for helping lead the Buckeyes to the 2015 National Championship, filling in for injured starter J.T. Barrett in wins over Wisconsin, Alabama, and Oregon. He will be entering his third NFL season this year.
Jones isn't the only star from the athletic world to spread a positive message in Ottawa County; former BMX star Tony Hoffman spoke to high school students in 2017 before returning this year to speak to middle school students.
Levorchick hopes having someone like Jones in uniform representing the department helps build trust between children and law enforcement officers.
"It's at the pinnacle of what we need to take charge of right now, show our youth that law enforcement is not the enemy," Levorchick said. "... It's vitally important to grow that bond between law enforcement and our youth."
But before Jones delivers too many more speeches with Levorchick, the quarterback will need to be fitted with a uniform. And while Jones may not have the biggest uniform — someone in the department is two inches shorter than Jones but outweighs him by 20 pounds — his role will be as important as anyone.
"He's a good human being, and I see this as a positive for the community," Levorchick said.
The Chargers did not reply to emails seeking comment.
©2018 The Blade (Toledo, Ohio)
McClatchy-Tribune News Service