React without reaction: What cops should do when being recorded
To avoid becoming a YouTube star, police officers should aim to be as boring as possible when a member of the public is recording them
---
By Leischen Stelter, Editor, In Public Safety, American Military University
The number of viral videos of police encounters has skyrocketed in recent years, bringing with it national scrutiny about officer conduct and agency policies.
Some of these videos have justly highlighted improper and unprofessional officer behavior, while others have shown officers acting within their legal authority, but in a way that draws negative public response.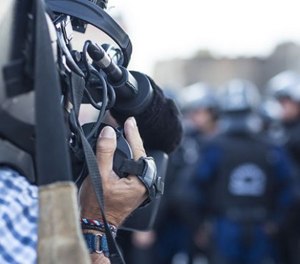 This trend has many officers on their heels, concerned that any slight misstep or misperceived action may be captured on film, propelling them into the unwanted national spotlight.
The reality is all officers must assume their every action is being recorded. "Everybody has a cell phone and every cell phone has a camera," said Michael Parker during a webinar entitled, Rights and Limitations of the Public and Media to Film Peace Officers, part of American Military University's Law Enforcement Webinar Series.
Parker, who retired after 32 years with the Los Angeles County Sheriff's Department (LASD), dealt with many crisis situations involving officers being recorded. He was also instrumental in creating the agency's policy on the issue. Parker, who now owns a consulting company, The Parker Group, was joined by Mickey Osterreicher, a lawyer with the National Press Photographers Association. He has 40 years' experience as a photojournalist in print and broadcast as well as being a uniformed reserve Deputy Sheriff. Both have provided extensive training to law enforcement agencies and organizations throughout the country.
During the webinar, Parker and Osterreicher provided in-depth information about officer conduct, training requirements, policy development and the legal and constitutional rights of the public to record police.
Camera? What Camera?
The most important message to officers was to ignore the fact that a person is holding a camera. If someone has the legal right to be somewhere, they likely have the right to be there with a camera in hand. The best thing an officer can do when they're being recorded is not acknowledge the camera at all, advised Parker.
In most cases, officers do not have the legal authority or constitutional right to stop a person from recording them in public. However, officers do have the right and authority to ask a person who is encroaching on a scene, materially interfering with police activity, or putting themselves in harm's way to step away. In order to help avoid a potential lawsuit, officers must be very specific and direct about how they ask a person to move.
Tips on How to Interact When Being Recorded
When instructing someone to move away from a scene, officers must be precise with their request. For example, instead of saying "Go away," officers should tell the person to "Step back 10 feet and stand on the sidewalk by the tree," said Parker.
To be constitutionally sound and less likely to face litigation, an officer's request must be reasonable in time, place and manner, added Osterreicher. "Articulate where you want them to go, you can't just send them completely away," he said. "Saying 'go away' by itself without any clear direction is going to get you in trouble."
Just as officers can't stop someone from recording them, they also can't stop others being recorded or photographed either.  If an event – like a homicide or car accident –happens in a public space, there's nothing an officer can do to stop others from recording it. "You can try appealing to the photographer to have dignity for the family, but they don't have to cooperate," said Parker.
Officers can create a scene perimeter, but they can't ask someone with a camera to step further back than anyone else. When it comes to protecting victims or witnesses from being recorded against their wishes, the only thing officers can do is move that person to a non-public place, such as inside a patrol car or take them to the station. Officers cannot order a person to stop filming or photographing, no matter how sensitive a scene.
Find Yourself Being Recorded? Be Boring
When an officer is being recorded, they should aim to be calm and unemotional while being direct and specific. "The more boring you are in their video, the less likely you are to become a negative YouTube star," Parker said. Unfortunately, there are people out there who try to incite officers in an attempt to produce a viral video.
"Officers need to understand this is a new normal and they're better off not letting someone sucker them into negatively reacting because that's the person's goal – to make them look really bad on film."
In the heat of the moment, this can be difficult. That's where training comes in. Parker encourages agencies to conduct training scenarios where officers rehearse ways to speak to someone recording them. "The biggest challenge for officers is getting this guy out of the way without looking bad on video," said Parker. "Officers need to know not only how to do the right thing, but they need to look good while doing it." That takes practice and officers shouldn't wait until they find themselves in such a situation to test out these techniques.
In addition to training, officers need to have each other's backs during these situations. One example Parker highlighted was a video of a young officer asking a cameraman to stop recording her. She was becoming aggravated by the cameraman's refusal when a sergeant came over and simply tapped her on the shoulder. The officer turned away and ignored the camera. "Nothing else happened, but this could have easily taken a bad turn," said Parker. "That sergeant was able to defuse the situation with non-verbal communication. How many careers have been saved by a partner's hand on another's shoulder offering a reality check to back off?"
And while it seems obvious, it's important to note that officers should never seize a camera or view its contents without permission or a warrant. "There are no circumstances when a camera's contents should be deleted or destroyed," said Osterreicher, quoting a U.S. Department of Justice directive. "That is basically seizing and destroying without due process and it will be problematic for officers."
Steps to Creating a Policy
To accompany training, all agencies should have a specific policy that addresses the public's rights and limitations to recording as well as officer conduct when being recorded. For example, the LASD's policy clearly states that officers should not order a person to cease such activity, demand a person's identification, or demand the person state why he or she is taking pictures or recording. All those demands violate a person's constitutional rights and could possibly lead to litigation.
The LASD worked with Parker, Lt. Eric Lasko, Constitutional Policing Advisor attorneys, representative unions, Mickey Osterreicher, and others to develop their policy. The Civil Rights Division of the U.S. Department of Justice added input and agreed with the LASD policy now in effect. When developing policy and training, Parker and Osterreicher also encouraged officers to review landmark cases on this topic, including:
During the webinar, Parker and Osterreicher covered several other important topics including qualified immunity, exigent circumstances and other examples of constitutional principles to aid officers. To learn more about this topic and others, follow Parker and Osterreicher on Twitter.
---
About the Author: Leischen (Stelter) Kranick is the editor of In Public Safety, an American Military University sponsored website. She has spent six years writing articles on issues and trends relevant to professionals in law enforcement, fire services, emergency management and national security. To contact her, email IPSauthors@apus.edu.
For more articles featuring insight from industry experts, subscribe to In Public Safety's bi-monthly newsletter.