What did you struggle with the most while in the police academy?
Many officers look back on their time at the police academy with a sense of accomplishment and pride, but that doesn't mean they didn't hit some snags along the way
---
By Police1 Staff
Juvenile law, traffic law, patrol tactics – you know where we're going with this – and you likely either had a visceral reaction or test anxiety flashback just reading those words again.
Take solace in the fact you're not alone. Police1 Facebook fan Brian Smith admitted he struggled the most with juvenile law, while others confessed they weren't adequately prepared for the physical strength, endurance and fitness component of police academy life.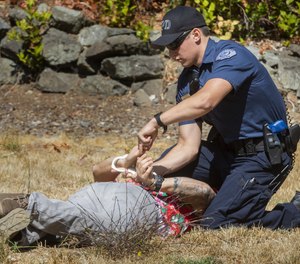 However, despite these struggles, most officers look back on their time at the academy with a sense of accomplishment and pride. "I look back on it as one of the best times of my life," Police1 Facebook fan Ryan Wat said.
In honor of #FlashbackFriday, we're calling on all veterans and rookies: what did you struggle with the most while in the academy? Share your experience with us in the box at the end of the article.
"Clearing an abandoned hospital with bad guys scattered about. It was an ambush practical. We were graded on how long we lived. I had the lifelong lesson to ALWAYS look up!" – Juan Martinez
"The worst part was taking a hot load of OC to the face." – Jacob Jared
"Firearms. I had to break some horrible habits I formed because I didn't start shooting handguns with any formal training." – Brad Adams
"Backing up through the cone course. I know. Horrible." – Tom Flaherty
"Ground fighting." – Jacob D. Nobles
"Running. I'm not a runner, but I still graduated #1 in my class of '64." – Robin Elder
"Being sarcastic almost got me canned. I'm really grateful to the training sergeant who set me straight." – Jeremie Evangelista
"Being back in a school environment and having to remember study habits after being out of school for over 10 years. And the penal code!" – Kimberly Denise
"Sleep. I had my first-born shortly after academy began. Every day was a long, long day." – Jason Young
"Constitutional law and search and seizure." – Peter Hodap
POLICE1 READERS RESPOND
"Room inspection. No matter how hard I squared the room away, my roommate was always the last one out of our room and he was a smoker. I didn't see liberty night for five weeks because of him. He always left something behind that shouldn't have been there. Cigarette butt in the toilet ... ashes on his desk."

"Spanish language training."

"Running. I had a 10 month old and 3 year old when I started and getting in shape after pregnancy was hard."

"Definitely the running, but would push through knowing I couldn't run."

"Working an overnight shift job few days a week while doing academy during the day. Many, many days of nearly being up for 24 hours straight. Was a prelude to actual police work hours."

"The Precision Cone Course but suprisingly I did not hit any cones on my first qual try. I had point deductions on the time though but I still passed!"

"The tests. I always love working out and testing my physical ability ... that was play time for me. But I have always been terrified of written tests and a bad test taker. But practice and studying got me there. Just get through it and pay attention!"

"The serpentine driving course while towing a 21-foot boat ... in an old Ford Bronco ... in reverse."

"Being away from my family."

"First aid class. Just couldn't remember the steps in giving first aid and especially the various types of oxygen masks. Barely passed that class."

"I think it's easy to remember the difficulties and struggles we overcame ... running, inspections, tests, tests and more tests. I think the most difficult struggle was putting all of the skills together when hitting the streets. All of a sudden, something you learned in the academy 15, 20, 25 weeks ago, memorized, passed on a test and never saw it again was supposed to be at your cognitive fingertips for use when appropriate. So yes, we can easily remember the common struggles that we overcame at the time, but the real struggle was cognitive and psychomotor skill retention, recall and transfer into the ever-changing and challenging contextual setting of the street."
NEXT: What to expect from police academy training
Complete the form below to share your academy experience with us.
What did you struggle with the most while in the academy?