Free admission for cops every Saturday at National Law Enforcement Museum
The free admission will be offered to all active and retired law enforcement officers through the end of 2022
---
By Police1 Staff 
WASHINGTON — All active and retired law enforcement officers will enjoy free admission to the National Law Enforcement Museum in Washington every Saturday for the rest of the year, museum officials said last week. 
The move was made possible by a donation from AT&T and its partnership with FirstNet, a communications platform for first responders, according to the release.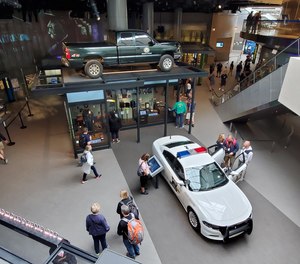 "The National Law Enforcement Museum exists to share the vibrant story of American law enforcement," said Marcia Ferranto, CEO of the National Law Enforcement Officers Memorial Fund. "This collaboration with AT&T helps us continue that mission by making the museum more accessible to our nation's law enforcement heroes." 
The National Law Enforcement Museum houses exhibits of American policing history, including a recent exhibit on law enforcement in the post-9/11 era.
"We are honored to be a part of this remembrance," said Jason Porter, president of AT&T's public sector and FirstNet. "This museum highlights the importance of duty, sacrifice and leadership among first responders. We look forward to continuing to aid in this important mission and providing support to the current law enforcement community."
Learn more about the National Law Enforcement Museum here.
NEXT: How the National Law Enforcement Museum honors and educate